What just happened in Islamabad does not bode well
with george already having signed a secret order allowing u.s. forces in afghanistan to conduct operations inside pakistan, the last thing we need is something like this to provide a reason to escalate...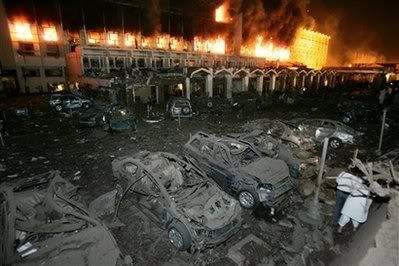 A view of destruction caused by a bomb explosion at the Marriott
Hotel in Islamabad, Pakistan on Saturday, Sept 20, 2008.
Police say at least 40 people have died in a massive explosion that destroyed the luxury Marriott Hotel in Pakistan's capital.

Senior police official Asghar Raza Gardaizi said he fears there are dozens more dead inside.

He said that the Saturday blast, which reverberated throughout Islamabad, was caused by more than a ton of explosives.

The blast left a crater some 30 feet deep in front of the main building.
this will be the major story of the weekend...
Labels: George Bush, Islamabad, Marriott Hotel, Pakistan, terrorism, truck bomb
Submit To Propeller
Tweet
[Permalink]
0 comments