Remember the ozone hole...?
well, it hasn't gone away...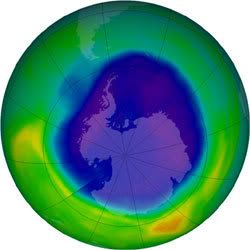 This year's ozone hole surrounding the Southern Hemisphere's pole is shaping up to be one of the largest ever, having already surpassed the size of last year's, according to the World Meteorological Organization.

WMO says that despite a relatively late start, the ozone hole has grown rapidly during the past couple of weeks and has now passed the maximum size attained in 2007.

According to WMO the hole in the ozone layer over Antarctica currently covers an area of 27 million square kilometers, compared to a maximum of 25 million square kilometers last year. It says that while the hole continues to grow, it is still too early to determine how large it will be, before it breaks apart in mid-December.
27 million square kilometers and growing... wow...!
Labels: Antarctica, ozone hole, World Meteorological Organization
Submit To Propeller
Tweet