C'mon, dammit, let's let the friggin' house of cards FALL already...!
geeeez, louise...! get 'er done, will ya...?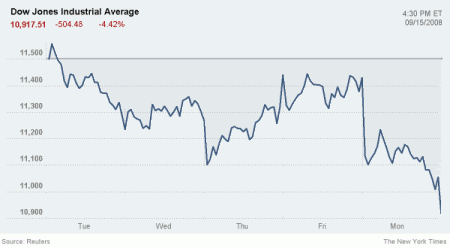 The churn of a rapidly changing financial landscape left Wall Street cold on Monday, as a late afternoon sell-off sent the stock market to its worst daily loss in seven years.

The Dow Jones industrial average plummeted more than 500 points — its worst session since the days after the Sept. 11, 2001 terrorist attacks.

The blue-chip index spent the entire day in negative territory, but the losses did not begin approaching dramatic levels until late in the afternoon. In the last 30 minutes of trading, investors seemed to give in to their fears about the health of the financial system, sparking a wave of selling that sent the Dow, already about 300 points lower, to a 504.48 point decline for the day.

The Standard & Poor's 500-stock index fared even worse, losing 4.7 percent, and the technology-heavy Nasdaq composite index fell 3.2 percent. In Europe, benchmark stock indexes were off nearly 4 percent in London and Paris and almost 3 percent in Frankfurt.
meanwhile, hank paulson, the flaming bush mouthpiece that he is, tries to pour oil on the troubled waters...
In a briefing in Washington, Treasury Secretary Henry M. Paulson Jr. said the financial markets were going through a tough time "as we work off some of the past excesses," but that Americans could "remain confident in the soundness and the resilience of our financial system."

"Let me step back a bit and provide a little perspective," Mr. Paulson said. "As I've long said, the housing correction is at the root of the challenges facing our markets and our financial institutions. I believe that we've taken very important steps with respect to Fannie Mae and Freddie Mac, and they're amongst the most important actions we can take to work through this turmoil."
if hankie-poo is expecting us to swallow that enormous load of fresh, steaming shit, when every time we've watched yet another financial bridge burn in the past nine months, he's said the very same goddam thing, and, each time, the next bridge that catches fire is a bigger bridge and the span of water that it crosses is increadingly unnavigable, i ain't buyin' a single goddam syllable that passes his lying lips...
Labels: Dow Jones, economic collapse, Fannie Mae, financial meltdown, Freddie Mac, Henry Paulson, stocks, Treasury Department
Submit To Propeller
Tweet