Commuter rail patrons' rage boils over in Buenos Aires - again [UPDATE]

this is the second time in two years that angry commuters have set fire to a commuter train in argentina... the last time was may 15 of last year and now again yesterday... the incident last year took place in estación constitución and a different train operator, but yesterday's was against tba (trenes de buenos aires)... tba runs the tigre service on the mitre line that operates out of estación retiro, a line i ride frequently from the station closest to my house, rivadavia station... (as i pointed out in the post i put up about the previous incident, tigre serves the affluent suburbs to the north of the city along the rio de la plata and offers generally reliable service and air-conditioned coaches...) tba's sarmiento line operates out of estación once and serves a huge number of poor communities to the northwest and west of the city... it's the sarmiento line that suffered yesterday's assault... (see map below for station locations)
A fire begins at the carriage of a train at the Castelar station
in Buenos Aires.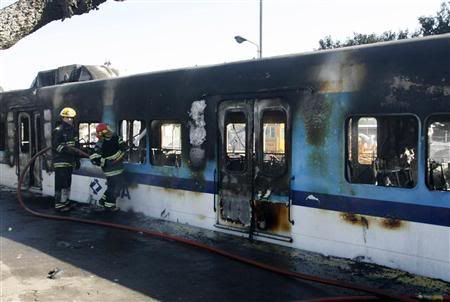 Firefighters put out a blaze in a train at the Merlo station,
in the western suburbs of the capital Buenos Aires.
Furious rail commuters in Argentina set fire to a train on Thursday in anger over delays during the morning rush hour.

Television images showed black smoke and flames engulfing the train at the station of Merlo, in the western suburbs of the capital, Buenos Aires. At nearby Castelar, passengers hurled stones at the ticket office and blocked the rails.

"We understand that people get angry when the service is delayed or canceled, but they absolutely can't attack a public service in this way," Gustavo Gago, a spokesman for rail company TBA, told local television.

Many passengers said the delays, caused by a broken down train, had cost them a day's work.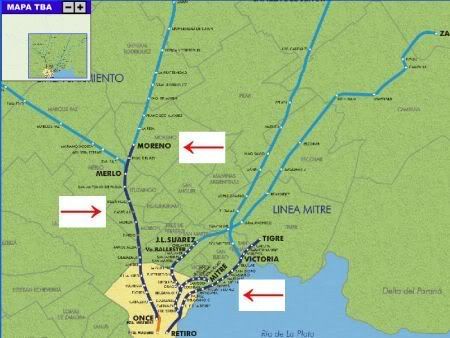 Merlo Station, Sarmiento line
(red arrow, upper center left)
Castelar Station, Sarmiento line
(red arrow, middle center left)
Rivadavia Station, Tigre line
(red arrow, lower center)
most of the folks served by commuter rail service in buenos aires are working poor who, like so many folks right here in the u.s., have to live in the far exurbs because that's the only place they can afford to live... they have to rely on cheap public transportation to get to jobs where they are paid a pittance for what is often very hard, exhausting work... losing a day's pay due to a transportation breakdown is a major loss... since a lot of these people live on the edge of abject poverty anyway, i can fully understand how this kind of rage could be close to the surface... i'm not excusing it, mind you, but i can certainly understand it...
[UPDATE]
according to mercopress, the south atlantic news agency, publishing out of montevideo, uruguay, the argentine government is accusing "radical leftists" for sabotaging the train and inciting the commuters to engage in the acts of destruction...
The Buenos Aires police chief said there is no way the incidents can be considered entirely spontaneous and suggests the involvement of organised violent groups.

[...]

Justice Minister Anibal Fernandez said the faulty train's brakes had been sabotaged and leftist political activists took rocks and flares from their backpacks to incite violence and set the train aflame.

"This was planned, it was premeditated," Fernandez told a news conference, adding the fire caused nearly 8 million US dollars in damages to the newest train running on the heavily traveled line.
i had forgotten that tba is in the process of putting new coaches online... when the article mentions that it was "the newest train running on the line," i'm sure that's correct... in fact, if you look at the second photo, you can see air-conditioning units on the top of the coaches... until just recently, only the tigre line had air-conditioning on the train coaches...
Labels: Argentina, Buenos Aires, Estación Constitución, Estación Once, Estación Retiro, protestors, Trenes de Buenos Aires
Submit To Propeller
Tweet