The REAL skinny on Afghanistan

a good chunk of the two and a half months i spent in kabul from march to early june was devoted to trying to figure out what the hell i was seeing and trying to make sense out of it all... i came to the conclusion that, despite the billions of dollars that has been pumped into the country since my country kicked the taliban out in late 2001/early 2002, things are still basically shit... the infrastructure - electricity, water, sanitation, health care, roads, food, jobs, and education - is in a godawful state, and abject poverty, massive corruption and spreading random violence are destroying what little was left of the afghan peoples' morale... i'm not a military strategist nor am i a specialist in the economies of war-ravaged countries, but the conviction i developed while i was there was that, if even the infrastructure problems were to be resolved, the violence would practically disappear overnight... this article goes a long way to confirming that perspective...
The bearded, turbaned men gather beneath a large, leafy tree in rural eastern Nangarhar province. When Malik Mohammed speaks on their behalf, his voice is soft but his words are harsh. Mohammed makes it clear that the tribal chiefs have lost all faith in both their own government and the foreign soldiers in their country.

Such disillusionment is widespread in Afghanistan, feeding an insurgency that has killed 195 foreign soldiers so far this year, 105 of them Americans.

"This is our land. We are afraid to send our sons out the door for fear the American troops will pick them up," says Mohammed, who was chosen by the others to represent them. "Daily we have headaches from the troops. We are fed up. Our government is weak and corrupt and the American soldiers have learned nothing."

A strong sense of frustration echoed through dozens of interviews by The Associated Press with Afghan villagers, police, government officials, tribal elders and Taliban who left and rejoined the religious movement. The interviews ranged from the capital, Kabul, to the rural regions near the border with Pakistan.

The overwhelming result: Ordinary Afghans are deeply bitter about American and NATO forces because of errant bombs, heavy-handed searches and seizures and a sense that the foreigners do not understand their culture. They are equally fed up with what they see as seven years of corruption and incompetence in a U.S.-backed government that has largely failed to deliver on development.

Even with more foreign troops, Afghanistan is now less secure.

"It certainly is a mess. Security is the worst that it has been for years. Corruption is out of control. It impacts every single Afghan," says Doug Wankel, a burly 62-year-old American who coordinated Washington's anti-drug policy in Afghanistan from 2004 until 2007 and is now back as a security consultant. "What people have to understand is that what ordinary Afghans think really does matter."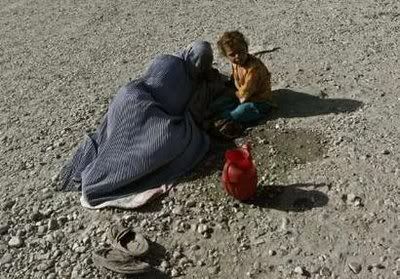 An Afghan woman and her child beg on
a roadside in Kabul September 4, 2008.
REUTERS/Omar Sobhani
the photo above shows what i saw many times as i cris-crossed the streets of kabul on my way to and from meetings - a woman and a small child lying in the middle of a street, literally in the direct path of traffic, begging for a few afghanis just to get something to eat...

these last few paragraphs sum up the sentiments i frequently heard from my afghan friends...
Moiabullah, a black-bearded Taliban from the troubled province of Ghazni, fled to Iran after the Taliban collapsed in 2001 but returned several months ago.

"People are fed up with this government," he says. "No one is working honestly. If you provide a good life, factory or jobs, of course no one will follow Mullah Omar (the Taliban leader)."

Out at the heavily fortified, sprawling U.S. military base at Bagram, north of Kabul, Brig. Gen. Mark Milley says the Taliban and al-Qaida are enemy number one, and corruption is enemy number two. But he claims the troops are inching forward in bringing security to the country.

"The western forces, international forces, Americans in particular are the most disciplined in our use of deadly force," says Milley, the deputy commanding general of operations. "We think we are succeeding."

Back at the tribal council, or shura, in Nangarhar, the eldest of the elders disagrees.

"It is a shame for them," says Abdul Samad, a tall, lanky man in his seventies with a silver beard on his gaunt face. "It was a good opportunity after the Taliban. But it is gone."
so very, very sad, and i may be heading back there toward the end of october...
Labels: Afghanistan, Hamid Karzai, Kabul, poverty, public infrastructure, Taliban, U.S. troops
Submit To Propeller
Tweet