The house of cards is falling faster and faster
we're in free fall now...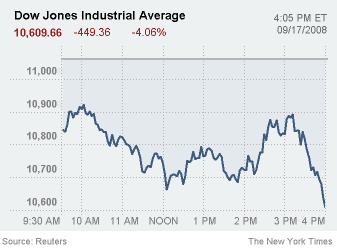 check the quote, "no end in sight..."
A.I.G. Bailout Fails to Stem Global Stocks Slump

One of the most stunning government bailouts in American history failed on Wednesday to stem the runaway fears engulfing the global financial system.

Investors embarked on a frenzied flight to safety on Wednesday, just hours after the Federal Reserve and the Treasury Department propped up American International Group, the ailing insurance giant, with an $85 billion loan. And many wondered which once-proud institution would be the next to fail.

"There's a growing sense that there's no end to this in sight," Edward Yardeni, the investment strategist, said.

Investors, seeking security in a market that has so far refused to stabilize, poured money on Wednesday into ultra-safe government notes, driving the yield on short-term Treasury bills to the lowest levels in 50 years.

Stocks around the world plummeted. The Dow Jones industrial average lost more than 200 points, despite the federal government's efforts to prop up A.I.G. The move avoided a potentially devastating collapse of the company, but investors appeared already to have shifted their attention elsewhere.
pretty stunning, eh...?
Labels: A.I.G., Dow Jones, economic collapse, Federal Reserve System, financial meltdown
Submit To Propeller
Tweet