Dubai ain't immune to the global financial meltdown
from daijiworld via juan cole...
Local police have found at least 3,000 automobiles -- sedans, SUVs, regulars -- abandoned outside Dubai International Airport in the last four months. Police say most of the vehicles had keys in the ignition, a clear sign they were left behind by owners in a hurry to take flight.

The global economic crisis has brought Dubai's economic progress, mirrored by its soaring towers and luxurious resorts, to a stuttering halt. Several people have been laid off in the past months after the realty boom started unraveling.

On the night of December 31, 2008 alone more than 80 vehicles were found at the airport. "Sixty cars were seized on the first day of this year," director general of Airport Security, Mohammed Bin Thani, told DNA over the phone. On the same day, deputy director of traffic, colonel Saif Mohair Al Mazroui, said they seized 22 cars abandoned at a prohibited area in the airport.

Faced with a cash crunch and a bleak future ahead, there were no goodbyes for the migrants -- overwhelmingly South Asians, mostly Indians - just a quiet abandoning of the family car at the airport and other places.

While 2,500 vehicles have been found dumped in the past four months outside Terminal III, which caters to all global airlines, Terminal II, which is only used by Emirates Airlines, had 160 cars during the same period.
i've been through dubai several times... wherever i am, i always make it a point to talk to taxi drivers... i like to hear their thoughts on things because they usually have their fingers on the pulse of what's going on locally... every single taxi driver i've spoken with in dubai has been either from india or pakistan, most having been recruited by the government, most there without their families, most there trying to earn some money to send home, and most not caring much for dubai, the locals or how they're treated... they come on two-year, renewable contracts with a one-month paid home leave at the end of the first year... some had already renewed, some were thinking about it, and some said "no way"... it's interesting to know that, now that dubai has at long last fallen on hard times, many are simply saying "to hell with it"... can't say as i blame them...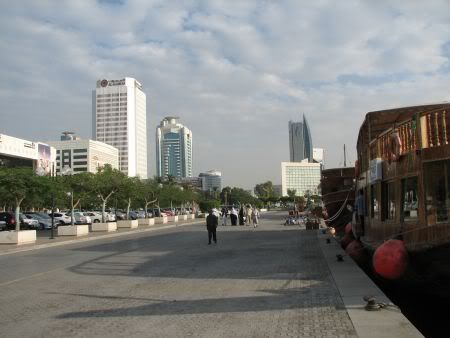 Dubai from the east bank of Deira Creek
29 November 2008
Labels: Dubai, India, Pakistan, taxi drivers, United Arab Emirates
Submit To Propeller
Tweet
[Permalink]
0 comments