Bagh-e Babur Gardens, Kabul, Afghanistan
we spent yesterday afternoon at babur gardens, a restored royal palace, tomb and gardens on the west side of kabul... an art exhibition of afghani, iranian and pakistani contemporary artists is on display in the queen's palace through 20 november and, i have to say, both the setting, the building restoration and the art are stunning... it's a remarkable oasis of beauty and serenity in the midst of the poverty and chaos of a war-ravaged but nonetheless magnificent country with a priceless cultural heritage that most westerners know little to nothing about... here's a few photos i was fortunate enough to have the opportunity to take...
Bagh-e Babur, Kabul, Afghanistan
Babur tomb
Original wooden doors, circa AD 1500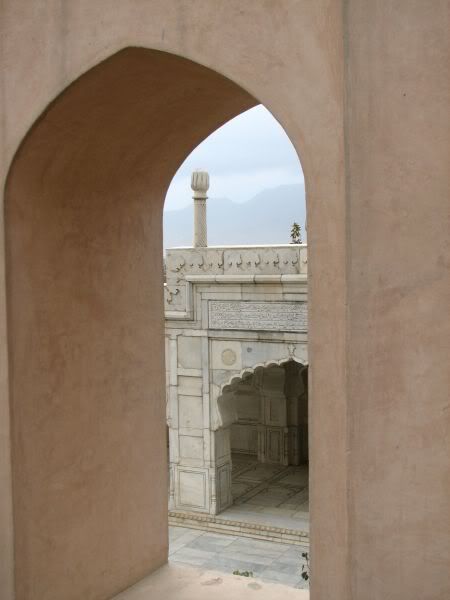 Mosque as seen from upper garden
Mosque
Bagh-e Babur

Bagh-e Babur (Persian: باغ بابر) is a park and tourist attraction in Kabul, Afghanistan, which contains the tomb of the first Mughal emperor Babur. The park is made-up of several gardens that would go on to inspire other Mughal gardens. The walls of the park were rebuilt in the same older style design in 2005 by the German Archaeological Institute (DAI), since they were damaged during the 1992-1996 civil war in the city. Bagh-e Babur is situated in the Chehlstoon area of Kabul, over a hill, from which the western and southern parts of Kabul can be viewed. Babur, who was first buried in Agra, would later be buried here to fulfil his wish. Bagh-e-Babur is currently under restoration by Aga Khan Trust for Culture. Aga Khan IV has promised that it will be a big asset to city of Kabul and Afghanistan.

Labels: Afghanistan, Bagh-e Babur, Kabul
Submit To Propeller
Tweet
[Permalink]
0 comments