The Megaupload seizure does indeed give the finger to our SOPA/PIPA victory
what you see when you click through to the megaupload site...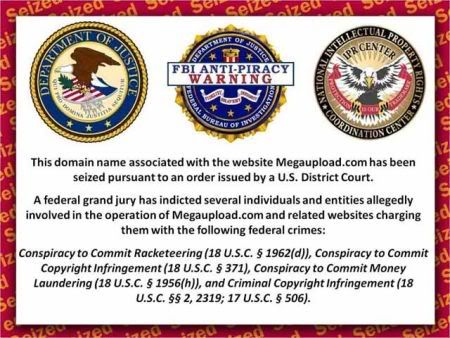 glenn...
It's true that website-seizures-without-trials are not quite as lawless as indefinite detentions, since there are actual statutes conferring this power. But it nonetheless sends a very clear message when citizens celebrate a rare victory in denying the Government a power it seeks — the power to shut down websites without a trial — only for the Government to turn around the very next day and shut down one of the world's largest and best-known sites. Whether intended or not, the message is unmistakable: Congratulations, citizens, on your cute little "democracy" victory in denying us the power to shut down websites without a trial: we're now going to shut down one of your most popular websites without a trial.

The U.S. really is a society that simply no longer believes in due process: once the defining feature of American freedom that is now scorned as some sort of fringe, radical, academic doctrine. That is not hyperbole. Supporters of both political parties endorse, or at least tolerate, all manner of government punishment without so much as the pretense of a trial, based solely on government accusation: imprisonment for life, renditions to other countries, even assassinations of their fellow citizens. Simply uttering the word Terrorist, without proving it, is sufficient. And now here is Megaupload being completely destroyed — its website shuttered, its assets seized, ongoing business rendered impossible — based solely on the unproven accusation of Piracy.
the rule of law does not apply to our government...
Labels: due process, Glenn Greenwald, internet, Megaupload, PIPA, pirates, rule of law, SOPA
Submit To Propeller
Tweet
[Permalink]
0 comments