Tell ya what... THIS kid may only be 10 but he's got cast-iron cojones
how cool is this young man, will phillips...? just check it out at this link...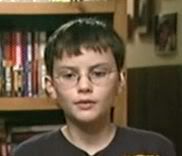 Will Phillips
i can honestly say there is no way in hell i could have even THOUGHT about such a principled stand at his age... a kid like this gives me hope...
Labels: cojones, gay marriage, Pledge of Allegiance
Submit To Propeller
Tweet