Now, THIS is what I'M talkin' about, and it AIN'T rocket SURGERY...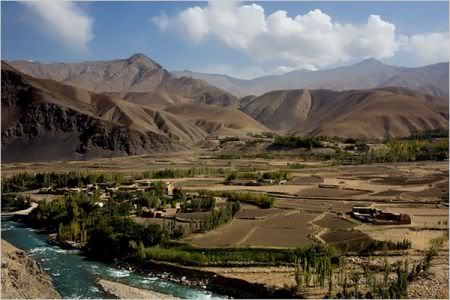 Jurm Valley, Badakshan Province, Afghanistan
Photo: Holly Pickett for The New York Times
goddam... how long does it take folks to get a clue...? and guess who's got the goddam clue...? why, the aga khan foundation, of course, who, if anybody oughta know, it would be them...
[I]n Jurm, a valley in the windswept mountainous province of Badakhshan, in the northeast ... people ... have taken charge for themselves — using village councils and direct grants as part of an initiative called the National Solidarity Program, introduced by an Afghan ministry in 2003.

Before then, this valley had no electricity or clean water, its main crop was poppy and nearly one in 10 women died in childbirth, one of the highest maternal mortality rates in the world.

Today, many people have water taps, fields grow wheat and it is no longer considered shameful for a woman to go to a doctor.

If there are lessons to be drawn from the still tentative successes here, they are that small projects often work best, that the consent and participation of local people are essential and that even baby steps take years.

[...]

"We ignored the people in districts and villages," said Jelani Popal, who runs a state agency that appoints governors. "This caused a lot of indifference. 'Why should I side with the government if it doesn't even exist in my life?' "

Jurm was tormented by warlords in the 1990s, and though it never fell to the Taliban, the presence of the central government, even today, is barely felt. The idea to change that was simple: people elected the most trusted villagers, and the government in Kabul, helped by foreign donors, gave them direct grants — money to build things like water systems and girls' schools for themselves.

Local residents contend that the councils work because they take development down to its most basic level, with villagers directing the spending to improve their own lives, cutting out middle men, local and foreign, as well as much of the overhead costs and corruption.

"You don't steal from yourself," was how Ataullah, a farmer in Jurm who uses one name, described it.

[...]

Anecdotal accounts point to some success. There have even been savings. When villages in the Jurm Valley wanted running water, for instance, they did much of the work themselves, with help from an engineer. A private contractor with links to a local politician had asked triple the price. (The villagers declined.)

Even such modest steps have not come easily. Jurm presented many obstacles, and it took a development group with determined local employees to jump-start the work here.

One basic problem was literacy, said Ghulam Dekan, a local worker with the Aga Khan Development Network, the nonprofit group that supports the councils here.

Unlike the situation in Iraq, which has a literacy rate of more than 70 percent, fewer than a third of Afghans can read, making the work of the councils painfully slow. Villagers were suspicious of projects, believing that the people in the groups that introduced them were Christian missionaries.

"They didn't understand the importance of a road," Mr. Dekan said.

Most projects, no matter how simple, took five years. Years of war had smashed Afghan society into rancorous bits, making it difficult to resist efforts by warlords to muscle in on projects.

"They said, 'For God's sake, we can't do this, we don't have the capability,' " Mr. Dekan said. "We taught them to have confidence."
shit on a stick, people... this ain't rocket SURGERY, fercryinoutloud... why in god's name are we continuing to be so friggin' clueless about something so fundamental, so elemental, so goddam EASY as helping people to help themselves and building that help in to existing society rather than trying to build some fabulous overlay of shit WE think is cooler than sliced bread and then end up shooting ourselves in the foot in the process...?
Labels: Afghanistan, Aga Khan Foundation, Badakshan, village councils
Submit To Propeller
Tweet