The Afghans are concerned about more troops - the United States must want the fighting to go on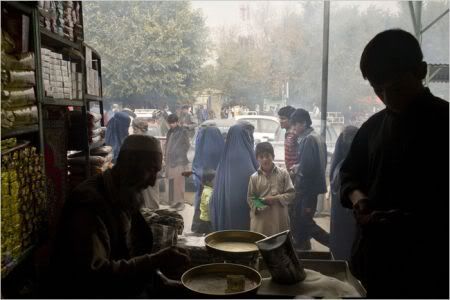 Moises Saman for The New York Times
At a bazaar in Charikar, north of Kabul, many Afghans said they
felt vulnerable to the Taliban, unprotected by their own government
or the American forces.
yeah, no shit...
In bazaars and university corridors across the country, eight years of war have left people exhausted and impatient. They are increasingly skeptical that the Taliban can be defeated. Nearly everyone agrees that the Afghan government must negotiate with the insurgents. If more American forces do arrive, many here say, they should come to train Afghans to take over the fight, so the foreigners can leave.

"What have the Americans done in eight years?" asked Abdullah Wasay, 60, a pharmacist in Charikar, a market town about 25 miles north of Kabul, expressing a view typical of many here. "Americans are saying that with their planes they can see an egg 18 kilometers away, so why can't they see the Taliban?"

Such sentiments were repeated in conversation after conversation with more than 30 Afghans in Kabul and nearby rural areas and with local officials in outlying provinces. The comments point to the difficulties that American and Afghan officials face if they choose to add more foreign troops.

If the foreign forces are not seen so by Afghans already, they are on the cusp of being regarded as occupiers, with little to show people for their extended presence, fueling wild conspiracies about why they remain here.

The feeling is particularly acute in the Pashtun south, but it is spreading to other parts of the country. More American troops could tip the balance of opinion, particularly if they increase civilian casualties and prompt even more Taliban attacks.

The grass-roots view among Afghans is at odds with those of top Afghan officials, as well as many American military commanders, who strongly endorse a full-blown counterinsurgency strategy, including a large troop increase.
now, check this interesting perspective...
Mr. Wasay and several friends visiting his pharmacy were discussing the Taliban's killing of a police chief in a rural part of the province. The rumor was that Taliban fighters had severed his head and delivered it to his son, according to one of Mr. Wasay's friends.

True or not, the anecdote was part of a growing mythology of Taliban power and a general perception that neither the Afghan government nor American troops were protecting Afghans.

Daily life continues to be so precarious for many people interviewed, especially those outside Kabul, that they have come to believe that the United States must want the fighting to go on.

"In the first days of the war, the Americans defeated the Taliban in just a few days," said Mohammed Shefi, a graduate student in the pharmacy school at Kabul University. "Now they have more than 60,000 forces and they cannot defeat them."
gee... endless war... now, ain't THAT an interestin' concept...?!?!
Labels: Afghanistan, endless war, Kabul, Taliban
Submit To Propeller
Tweet