Stubborn Argentina continues to shoot itself in the foot

honest to god... i LOVE that country but, fercryinoutloud, they desperately need to figure out how to get their ducks in a row... argentina has about as much potential both people and natural resource-wise as any country in the world but they also have this unparalleled ability to screw things up for themselves... here's a few samples of recent mostly unpleasant news... (yes, the post is a bit long but i'm making up for lost time... HA...!)

one year ago, the argentine government decided to re-nationalize the national airline, aerolíneas argentinas... it had been sold a number of years ago to the spanish firm, marsans, which, in typical privatization fashion, had operated it as a cash cow while letting everything deteriorate to unacceptable standards without investing a single peso in modernization, leaving a once proud carrier to become the butt of airline industry jokes...

and now...?
Argentina's re-nationalized flag air carrier Aerolíneas Argentinas lost in July 48 million US dollars which is "a little bit more" than the same month a year ago when the company belonged to the Spanish tourism group Marsans, according to the company's current CEO Mariano Recalde.

[...]

"In June 2008 revenue was 90 million US dollars and this year 50 million USD", said Recalde adding that "June and July are the worst months for airlines in the southern hemisphere", plus the fact that this year "we had a dramatic drop in winter tourism because of the A/H1N1 virus flu".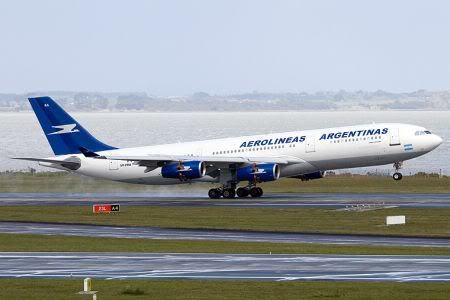 Copyright © Colin Hunter
The July loss "just above 48 million USD" and an average red of "33 million USD" admitted by CEO Recalde, with average revenue of 50 million USD in June, are indicating that income is only covering between 50 and 60% of costs.

Nevertheless Recalde insisted in his optimism in the future of the company since "under government management all indicators of Aerolíneas have improved significantly". He added that when the crisis "which is hitting all airlines of the world is over, revenue is going to increase considerably"
.
yeah, well, of course the airline was hit by the global economic downturn and the swine flu panic, but let's hope one of these days soon it can at least recover some of its dignity...

another big dynamic in argentina is that people simply do not trust their government... in fact, they don't even trust each other which, in my view, is simply an extension of the former... and is it any wonder...?
Workers at the government's National Institute of Statistics call it crass manipulation: Their agency, under pressure from above, altered socioeconomic data to reflect numbers palatable to the presidency. Inflation and poverty miraculously dropped, they said in interviews, and the economy boomed.

At least officially.

"They just erased the real numbers," said Luciano Belforte, an 18-year veteran at the institute. "Reality did not matter."

The alleged manipulation, which is under investigation by anti-corruption prosecutors, has angered Argentines. But in a globalized world, where a pensioner in Italy might be as likely to invest in Argentina as in Fiat, the suspected modifications are being felt far beyond this city.

[...]



Economists say the official inflation rate of 8.5 percent in 2007 was really about 25 percent

. In the 12 months ended this June, the INDEC put the rate at 5.3 percent, but economists say it might be three times higher. Argentina's vaunted economic growth this decade might have been exaggerated, too. Credit Suisse said the 7 percent expansion the government reported last year is likely 2 to 3 percent lower.

[...]

The controversy has raised questions about the government's official poverty figure.

The INDEC's calculation is 15.3 percent; the Catholic Church says it is closer to 40 percent

. After Pope Benedict XVI called poverty in Argentina a "scandal" this month, the government acknowledged that as many as 23 percent of Argentines might be poor.
so, guess what that massive lack of people's trust in their government has led to... check this out...
Argentina's flight of capital remains steady having reached 5.5 billion US dollars in the second quarter of the year, 11.2 billion in the first half and 43.1 billion US dollars since the second quarter of 2007

, when the first signs of the global crisis, according to the latest data from the Argentine Central Bank.

However it has been below the peaks of the second quarter of 2008, when the farmers' conflict with the Argentine government was at its highest point and at the end of last year when the Kirchner administration took over the private pensions' savings funds.

The Central Bank also points out that some of the flight has been into hard currency deposits and "local corporations are using those funds to pay for the running of their businesses but from foreign accounts".

Local economists point out that the deterioration of fiscal accounts, particularly the budget, and the possibility of a faster devaluation to help compensate the lack of revenue is making savers and companies put their monies in hard currency.

[...]

[E]conomics analyst centre Prefinex also believes that people fear the government will begin printing money to cover the fiscal deficit, which leads to a devaluation of the Peso and capital flight.

Econviews points out that the link between capital flight and a poor fiscal situation also worked inversely:

lack of confidence encouraged capital flight which then generated less activity

, less revenue and less fiscal abundance.
and it ain't only money that's leaving the country... here's some amazing statistics...
Over 800.000 Argentines left the country following the 2001 economic debacle, according to the latest report from the International Organization for Migration, which in the last decade represents 2.1% of total population.

[...]

Reference data shows that at the beginning of the XXth century an estimated 4.2 million immigrants from Italy, Spain, France and other European countries reached Argentina, but following a few years half of them returned. This means 2.2 million effectively remained in Argentina, which means that the exodus of the beginning of this century is equivalent to almost a third of that early last century massive influx.

However the latest data does not include the Argentines that have been forced to return because of the latest global economic crisis which has hit particularly hard Italy, Spain and the United States.

[...]

The local impact of this qualified emigration has been suffered by the Argentine private sector which has been forced to capacitate personnel and contract staff that can be reconverted.
how sad...

at least there's one bright spot...
Argentina paid creditors a total of 2.25 billion dollars on government-issued debt Monday

, as it sought to shed the last vestiges of its 2001 default and return to the financial mainstream. Economy Minister Amado Boudou said the payment, or coupon, had been made to holders of dollar-denominated Boden 2012 bonds—meeting a debt obligation that aims to boost confidence.

"The coupon corresponding to Boden 2012 has been paid," said Boudou, adding that the country would now seek a return to global capital markets before the end of the year.

Argentina has been excluded from these markets since December 2001, when the country suffered an economic collapse wiping out personal savings, shredding government finances and prompting Buenos Aires to default on its debt.

In 2005 Argentina restructured its defaulted debt but there are still an estimated 20 billion dollars in holdouts plus a pending debt to the Paris Club of lenders of 6.5 billion. The country's debt currently stands at 145 billion US dollars, plus the standing demands.

The Boden 2012 bond was issued in 2002 to compensate creditors who found access to their capital blocked during the 2001 freeze on bank withdrawals. It is estimated 65% of the bond issue is held outside Argentina and 35% locally.
i've been back in the u.s. since the end of may - too long... i'm getting itchy feet and my compass needle is pointing right at buenos aires where there will be signs of spring a'springin' within the next few weeks... unfortunately, it's likely i will be heading east to the balkans and back to afghanistan before i can once again enjoy the company of porteños...

like i say, i love argentina and the argentines but i sure wish they could figure out how to get their act together...
Labels: Argentina, Argentina 2001 economic collapse, Argentina civil aviation, Cristina Fernandez de Kirchner, inflation, Porteños
Submit To Propeller
Tweet