Argentine cacerolazos* join Quebec cacerolazos**
since i gave up my place in buenos aires, i've been grossly negligent in posting on argentina... that doesn't mean, however, that i haven't been keeping up on argentina news...
the on-going telenovela that is argentina is endlessly fascinating, particularly the exploits of its fashionista president, cristina fernandez de kirchner... cristina is a hoot and would be vastly amusing if she weren't leading a country of nearly 40 million people... she is in her second term following the two terms of her husband, nestor kirchner, who died unexpectedly midway through her first term... she won the last election with 54% of the vote and recently moved to shore up her populist credentials by nationalizing the ypf oil company and kicking out the principal shareholder, spain's repsol... but i've been wondering how long it would take argentines to grow tired of the inflation, corruption and general economic mismanagement that continues to be a hallmark not only of her presidency but of argentina governance in general, stretching back for generations... the straw that broke the camel's back was no doubt cristina's decree limiting u.s. dollar transactions, a decision that led to an enormous increase in capital flight... now, it looks like the good citizens of argentina have had it and have joined their quebecois brethren in making a joyful noise and returned to the street protests that characterized their response to the 2001 economic collapse ...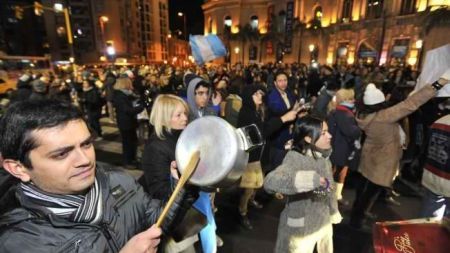 Pots and pans to protest corruption in Buenos Aires
For the third night in ten days angry Argentines took to the streets of Buenos Aires and other major cities banging pots and pans to protest corruption, rampant crime and insecurity, inflation and the dollar clamp in the midst of an economy that is showing clear signals of exhaustion and growing questions on the current course of affairs.
when i left buenos aires a year ago december, annual inflation was running over 28% and, from everything i've been reading, it hasn't slowed down a bit... i honestly don't know how ordinary argentines make it day-to-day in that economy... i first went there in 2004 and paid 5 pesos for a haircut and the peso-dollar exchange rate was 3-to-1... when i left in 2010, i was paying 25 pesos for a haircut and the exchange rate was 3.8-to-1... i have no idea what i would pay for a haircut today but i do know the exchange rate is now 4.4-to-1... one other thing i do know is that, in an attempt to "make it" financially, argentines cheat, lie, steal and stick it to each other as much as possible and when they're not sticking it to each other, they're REALLY sticking it to the tourists, which usually results in this...
Argentina is rapidly becoming an expensive country for tourists and evidence of this is the declining number of tourists arriving in the country in the first months of the year while the number of Argentine travelling overseas is soaring, according to Mario Lielman, chair of the Buenos Aires Tourism and Travel Agencies Association.
i have a very warm spot in my heart for argentina and argentines but, as i've come to learn, argentina is, in many ways, its own worst enemy...
* A cacerolazo or cacerolada is a form of popular protest practised in certain Spanish-speaking countries – in particular Argentina, Chile and Uruguay – which consists in a group of people creating noise by banging pots, pans, and other utensils in order to call for attention. What is peculiar about this type of demonstration is that the people protest from their own homes, thus achieving a high level of support and participation.

** In 2012 in Québec, a province of Canada, citizens are currently using cacerolazo after the adoption on 18 May of Bill 78, an act which severely restricts rights to peacefully assemble. Bill 78 has raised the ire of the Quebec Bar Association, the Quebec Human Rights Commission, Amnesty International, and others. While court challenges are underway, the "Casseroles" or "Pots and Pans Demonstrations" continue nightly in towns and cities across the province, concentrated in Montreal's various neighbourhoods. This joyful Montreal video of Cacerolazo in action has gone viral: http://www.huffingtonpost.ca/2012/05/25/montreal-pots-and-pans-video-bill-78_n_1546694.html
Labels: Argentina, Argentina 2001 economic collapse, cacerolasos, capital flight, Cristina Fernandez de Kirchner, currency exchange rates, global oil companies, inflation, nationalization, peso, tourism, U.S. dollar, YPF
Submit To Propeller
Tweet