Why Obama keeps Geithner and why he's calling for a tax on millionaires... (Cue the progressive music) [UPDATE]
there's a lot of s*** hitting the fan with the publication of ron suskind's new book, Confidence Men: Wall Street, Washington, and the Education of a President... i've been reading various reviews and analyses but leave it to glenn to hit the nail on the head...
Geithner wasn't chosen and hasn't remained despite being "associated with the deregulatory policies of the past" and despite being the bankers' "man in Washington." He is empowered precisely because of those facts, as was pointed out even before Obama's inauguration. That Geithner and Summers were empowered after enabling the financial crisis through Wall Street subservience isn't a mystery; it's the explanation (And just by the way, replacing the word "despite" with the phrase "because of" is -- in general -- one of the most valuable tools for translating Washington propaganda into reality; here is an excellent example showing how that works, from the first paragraph of a New York Times article two weeks ago:

Documents found at the abandoned office of Libya's former spymaster appear to provide new details of the close relations the Central Intelligence Agency shared with the Libyan intelligence service -- most notably suggesting that the Americans sent terrorism suspects at least eight times for questioning in Libya despite that country's reputation for torture.

Note how the paragraph instantly transforms from misleading nonsense into obvious truth simply by changing "despite" to "because of"; this repeatedly is an effective instrument for deciphering propaganda -- e.g., the U.S. continues to brutalize people in the Muslim world "despite" the fact that doing so produces more Terrorism and thus ensures Endless War.)
glenn also refers to the same matt taibbi piece i referenced in an earlier post...
I remember following Obama on the campaign trail and hearing all sorts of promises before union-heavy crowds. He said he would raise the minimum wage every year; he said he would fight free-trade agreements. He also talked about repealing the Bush tax cuts and ending tax breaks for companies that move jobs overseas.

It's not just that he hasn't done those things. The more important thing is that the people he's surrounded himself with are not labor people, but stooges from Wall Street.
glenn continues...
That's why -- after 2 1/2 years -- we suddenly see an outburst of "fighting for jobs" and, now, a call to raise taxes on the rich. He does that precisely because everyone -- especially the rich -- knows it will not and cannot happen. We're now formally in (re-)election season, so it's time again to haul out the progressive music. ... [N]one of this presages an actual change in how the government functions or, especially, on whose behalf it labors. That's precisely why he feels free to advocate such things without alienating his funding base. It's still the government of Tim Geithner and his bosses/owners; election season (combined with rising elite fear of social unrest) just requires a bit more pretense to obscure that fact.
glenn concludes his post with this all-too-sadly-true cartoon...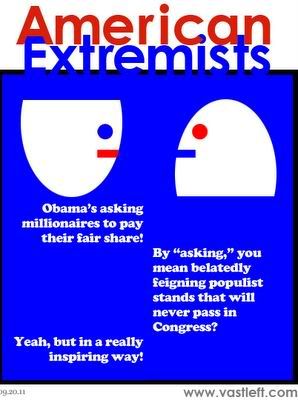 [UPDATE and BUMPED]
check out this reuters headline...
Obama deficit plan aimed at Democratic base

[...]

"I will not support any plan that puts all the burden on closing our deficit on ordinary Americans," Obama said. "We are not going to have a one-sided deal that hurts the folks who are most vulnerable."

With polls showing most Americans unhappy with his economic leadership, Obama's re-election hopes could hinge on his ability to convince voters that Republicans represent the rich, not the middle class. That was the main theme of his remarks on Monday, in which he repeatedly said all Americans must pay their "fair share" of taxes.
so, what am i supposed to do now...? after falling in love, accepting a proposal for marriage only to find that i hooked up with a spouse-beater and then taking my licks until i finally decided to leave the two-faced creep, do i now convince myself that it was all a misunderstanding and meekly return home...?

words ain't gonna bring me back, sweetie... trust me...
Labels: 2012 election, banksters, Democrats, elites, Glenn Greenwald, Matt Taibbi, populism, Progressives, Ron Suskind, super-rich, Tim Geithner, VastLeft, Wall Street
Submit To Propeller
Tweet