The NYT's Floyd Norris is stunned that people are still pessimistic about the "recovery"
i don't know what alternate universe floyd norris lives in... he seems to think that those of us who think the economy still sucks are misguided...
The American economy appears to be in a cyclical recovery that is gaining strength. Firms have begun to hire and consumer spending seems to be accelerating.

That is what usually happens after particularly sharp recessions, so it is surprising that many commentators, whether economists or politicians, seem to doubt that such a thing could possibly be happening.

Usually you can depend on the White House to view the economy with the most rose-tinted glasses available. But it was not until last week, after a strong employment report, that President Obama started to sound a little optimistic.

"The tough measures that we took — measures that were necessary even though sometimes they were unpopular — have broken this slide and are helping us to climb out of this recession," he said in a speech at a factory making battery components in North Carolina.

Note, however, that he seemed to believe the country remained in recession. It is virtually certain that is not accurate, as least as will be determined by the arbiters of recession at the National Bureau of Economic Research. "The recession is over," one of those arbiters, Jeffrey Frankel of Harvard, wrote this week.

But the White House is unwilling to make that claim.

Why is good news being received with such doubt? Why is "new normal" the currently popular economic phrase, signifying that growth will be subpar for an extended period, and that the old normal is no longer something to be expected?
floyd norris is a tool...

meanwhile, one in every 418 housing units (for a total of 2,082,945) in the u.s. received a foreclosure notice in the month of february 2010...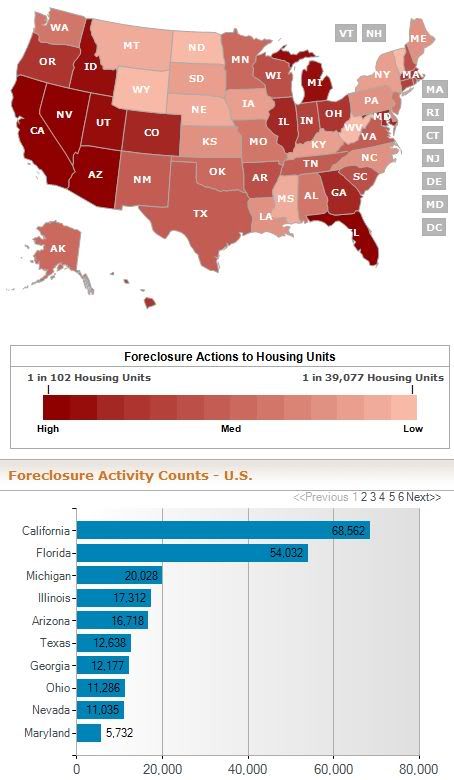 and over a QUADRILLION dollars worth of toxic derivatives remain off the books...
Today five US banks according to data in the just-released Federal Office of Comptroller of the Currency's Quarterly Report on Bank Trading and Derivatives Activity, hold 96% of all US bank derivatives positions in terms of nominal values, and an eye-popping 81% of the total net credit risk exposure in event of default.

The five are, in declining order of importance: JPMorgan Chase which holds a staggering $88 trillion in derivatives (€66 trillion!). Morgan Chase is followed by Bank of America with $38 trillion in derivatives, and Citibank with $32 trillion. Number four in the derivatives sweepstakes is Goldman Sachs with a 'mere' $30 trillion in derivatives. Number five, the merged Wells Fargo-Wachovia Bank, drops dramatically in size to $5 trillion. Number six, Britain's HSBC Bank USA has $3.7 trillion.
if and when those derivatives are declared and posted at their market value, the economic house of cards could and should collapse entirely...
Labels: Bank of America, Citibank, derivatives, economic collapse, financial meltdown, Goldman Sachs, JPMorgan Chase, New York Times, recovery, Wells Fargo
Submit To Propeller
Tweet