Pardon me if I really can't muster much in the way of credibility for Goldman's defense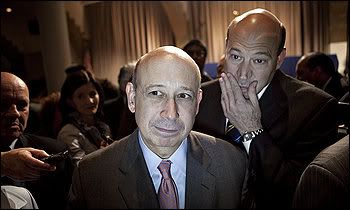 Goldman Sachs chief executive Lloyd Blankfein is
to testify before a Senate subcommittee Tuesday.
(Daniel Acker/bloomberg)
i don't believe 'em... i don't trust 'em... basically, i don't give a shit what they have to say... yeah, i know, it's unamerican to call somebody guilty until proven innocent but goldman has one HELL of a long way to go to earn any kind of trust from me... so far, in fact, that it won't happen in my lifetime...
Goldman Sachs is preparing its most detailed defense yet to allegations that it misled clients in its mortgage securities business, arguing that the firm was unsure whether housing prices would rise or fall and did not take any action at odds with the interests of its clients.

An internal Goldman document, prepared for senior executives and obtained by The Washington Post, addresses the criticism that the bank invested its own money betting against the housing market while simultaneously urging its clients to invest in securities that would increase in value only if the housing market did.

[...]

Goldman prepared the 11-page document to serve as the basis for testimony that chief executive Lloyd Blankfein is scheduled to deliver Tuesday before the Senate Permanent Subcommittee on Investigations.

The Goldman paper describes debates among top executives in 2006 and 2007 over whether the firm should make investment decisions based on the belief that the mortgage market would continue to prosper. The document details meetings and e-mails that ultimately resulted in a decision to reduce the company's exposure to the mortgage market, especially subprime loans, by making new investments that would pay off if housing prices fell.
goldman is exclusively the preserve of the super-rich elites who do only what serves their interests and has absolutely no connection with anything that faintly resembles what you or i would call the common good...
Labels: common good, elites, Goldman Sachs, Lloyd Blankfein, Senate Permanent Subcommittee on Investigations, subprime mortgage crisis, super-rich
Submit To Propeller
Tweet