As Atrios would put it, Lloyd Blankfein is a WATB* [UPDATE: Blankfein visits Obama]
i posted on mr. blankfein back in december, calling him the "face of wall street greed"...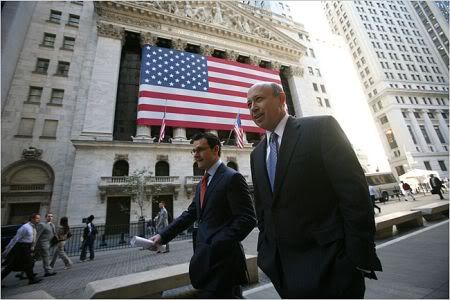 Lloyd Blankfein, CEO, Goldman Sachs
Mark Lennihan/Associated Press

so, given that mr. blankfein and his firm, goldman sachs, have been one of the prime beneficiaries for the biggest financial heist in history, nothing less than a coup d'etat, where does he get off whining...?

from the ft (subscription required)...
One person who received a call from the Goldman chief said he was told the regulator's case against the bank was politically motivated and would ultimately "hurt America". […]

"He was very aggressive," said one person called by Mr Blankfein on Wednesday. "He feels that the government is out to kill them, that they are under attack and the whole thing is totally political."

Mr Blankfein said the SEC action "hurts America", this person said.
boo-freakin'-hoo...
(* Whiny-Ass Titty Baby)
[UPDATE]
this doesn't look so good...
While Goldman Sachs' lawyers negotiated with the Securities and Exchange Commission over potentially explosive civil fraud charges, Goldman's chief executive visited the White House at least four times.

White House logs show that Chief Executive Lloyd Blankfein traveled to Washington for at least two events with President Barack Obama, whose 2008 presidential campaign received $994,795 in donations from Goldman's political action committee, its employees and their relatives. He also met twice with Obama's top economic adviser, Larry Summers.
nothing like massive amounts of money and the power that comes with it to gain access to the president... can you imagine you or me meeting with the president or his aides four times in just a few weeks...? me neither...
Labels: Atrios, elites, financial coup d'etat, Goldman Sachs, Lloyd Blankfein, Securities Exchange Commission, super-rich, Wall Street
Submit To Propeller
Tweet