Yet another CIA "black site"?
i've posted extensively on the existence of cia "black sites" in locations from poland to the indian ocean island of diego garcia (see here)... here's some current info from the wapo about another possible site in lithuania...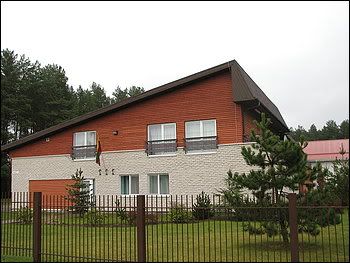 People in Antaviliai were suspicious of this building,
originally windowless, that may have housed a CIA
secret prison.
(Craig Whitlock/the Washington Post)
Residents of this village were mystified five years ago when tight-lipped American construction workers suddenly appeared at a mothballed riding stable here and built a large, two-story building without windows, ringed by a metal fence and security cameras.

Today, a Lithuanian parliamentary committee is investigating whether the CIA operated a secret prison for terrorism suspects on the plot of land at the edge of a thick forest for more than a year, from 2004 until late 2005.

Lithuanian land registry documents reviewed by The Washington Post show the property was bought in March 2004 by Elite LLC, an unincorporated U.S. firm registered in the District.

Records in Lithuania and Washington do not reveal the names of individual officers for Elite but identify its sole shareholder as Star Finance Group and Holdings Inc., a Panamanian corporation. There is no record of Elite owning other property in Lithuania.

The company, which has since had its registration revoked by D.C. authorities, in turn sold the property to the Lithuanian government in 2007, two years after the existence of the CIA's overseas network of secret prisons known as black sites -- including some in Eastern Europe -- was first revealed by The Washington Post.
so, naturally enough, the whole project was done by a cia "cutout" company as a way to shield the responsible parties but also to sidestep any and all accountability...
Labels: black sites, CIA front company, Lithuania
Submit To Propeller
Tweet