Bernanke tries to counter criticism of the Fed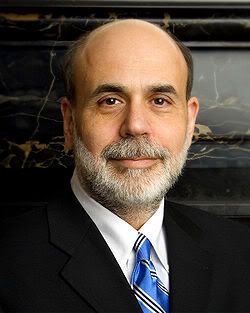 the la times, in a long article that purports to limn the details of how bernanke is responding to the growing call for fed scrutiny up to and including its dismantling, instead ends up only trying to elicit sympathy for poor beleaguered ben without bothering to elaborate on what is, imho, well-justified criticism (see previous post)...
[O]dds favor Bernanke to be reappointed by Obama. Bernanke has strong backing from economists and is well regarded in the White House, where he has had a long and good relationship with the president's economics team, including Christina Romer, with whom Bernanke played bridge when they were both teaching at Princeton, and former Treasury Secretary Lawrence H. Summers. The latter is often mentioned as a potential candidate for Fed chief, but is generally seen as an underdog because of his forceful style.

[...]

With global finances and the Fed's reputation imperiled, Bernanke has asserted his leadership. In addition to dropping its key lending rate to banks to nearly zero interest, the Fed has taken unprecedented action by invoking emergency powers under the 1913 Federal Reserve Act to prop up Bear Stearns Cos., American International Group Inc., Bank of America Corp., Citigroup Inc. and other faltering institutions. Bernanke's Fed has bought hundreds of billions of dollars of government debt to drive down mortgage rates.
ya gotta love the list of impressive "accomplishments" in that last paragraph... "propping up" a.i.g., citi, bear stearns and bofa sure would make the top of MY list of major efforts carefully crafted to help out the mass of u.s. citizenry...
Labels: A.I.G., bailout, Bank of America, Bear Stearns, Ben Bernanke, Citigroup, Federal Reserve System, Larry Summers, TARP
Submit To Propeller
Tweet