Let's hear it for a little fun in the midst of misery

god bless the children... i've seen children in kabul having fun no matter what the weather, no matter how abject their poverty and no matter how tough the security situation... a little skateboarding sounds like just the ticket...

from the la times...
A white van pulled up to a concrete fountain on a leafy side street in downtown Kabul, trailed by shrieking Afghan children.

"Ollie! Ollie!" they shouted, pounding on the vehicle.

Oliver Percovich, a lanky Australian in a black T-shirt, emerged from the van with a load of banged-up skateboards. The children grabbed the boards and raced off to skate in the cracked bowl of the dried-up fountain.

Skateboarding was unknown to Afghans until Percovich, who followed his social scientist girlfriend to Kabul, starting teaching local children to skate in early 2007. Two years later, their relationship is over and his girlfriend is back in Australia. But Percovich's "Skateistan" nonprofit club has become a magnet for children in Kabul, the capital.

In a country where girls are rigidly segregated from boys and rarely participate in sports, Skateistan has managed to bring boys and girls together. Dozens of children swarm across the fountain every day, sharing boards and showing off improvised skating moves.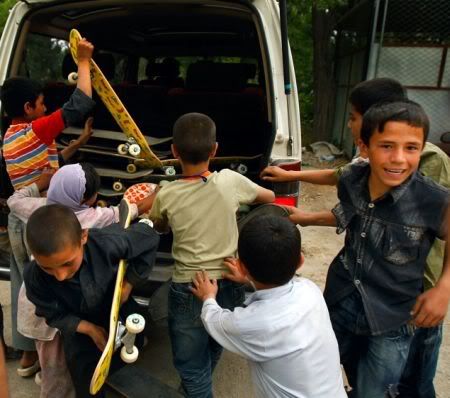 Neighborhood kids rush the Skateistan van to grab a skateboard
for an afternoon session.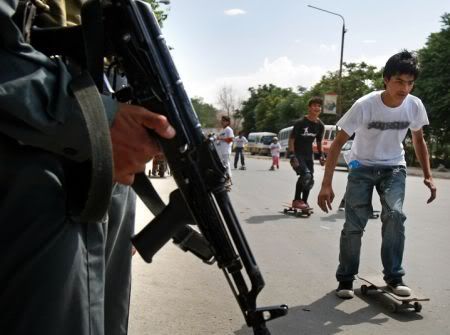 Skateboarders take over the streets of Kabul under
vigilant security.
again, i say, bless 'em... if i get the chance to get some of my own photos when i get back in september, i'll be sure to post them...
Labels: Afghanistan, children, good news, Kabul, LA Times, skateboarding
Submit To Propeller
Tweet