One of my fondest hopes may be realized if my senator, John Ensign, has just become burnt toast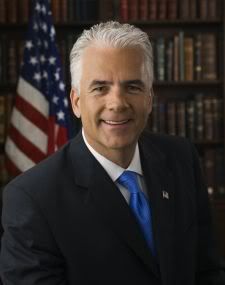 John Ensign
take a look at that photo... too slick by half... he looks like a more modern and classed-up version of what we used to call a "lounge lizard," a fitting description i suppose of a las vegas native...

boo-hoo, john... this should teach ya to keep it in your pants, altho' i highly doubt it will...
Sources in Washington and Nevada say Republican Sen. John Ensign, a rising star in the Republican Party considering a 2012 presidential bid will hold a press conference later today in which he will acknowledge an extramarital affair.

Ensign, a member of the Senate GOP leadership, flew back to his native Las Vegas today in anticipation of the public announcement, sources said, missing a vote considered key to the Nevada tourist industry.

Two senior GOP political strategists, speaking on the condition of anonymity to discuss the sensitive matter, said the announcement was imminent. They declined to say with whom Ensign had the affair.

In February 2002, Ensign took an unexplained two week leave of absence from the Senate citing "personal reasons."

When he returned from that respite, Ensign told the Las Vegas Sun that he was "not making any comments one way or the other. I'm just asking people to respect my privacy."
while you're chuckling over ensign's now tarnished star, consider the very low statistical odds of ANYONE being a las vegas native...!
Labels: John Ensign, Las Vegas, marital infidelity, Nevada
Submit To Propeller
Tweet