Argentina's ESMA becomes UNESCO Human Rights Center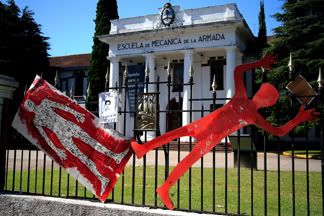 ESMA [Escuela de Mecánica de la Armada - the Navy Mechanics
School] was a fully functioning naval school during the time that
it was being used as a torture camp. The Officer's quarters, which
was located only a few hundred feet from a busy street in Buenos
Aires and is visible to pedestrian traffic, was the main building
used to house and torture the victims.
i posted on this back in october 2007... the esma building just so happens to be about five blocks from where i live in barrio nuñez... a week ago saturday, i walked past it on the way back from parque de los niños and paseo de la costa...
The grounds of the largest clandestine detention and torture centre in Buenos Aires during Argentina's "dirty war" crackdown on dissent are now a United Nations human rights centre.

Nearly 5,000 political prisoners are estimated to have passed through the main building of the former Navy Mechanics' School during the 1976-83 dictatorship. After being tortured with racks, electrical prods and other devices, an estimated 90 percent of the prisoners were executed, joining the 13,000 who were killed or made "to disappear." Rights groups put the number closer to 30,000.

The site became emblematic of the human rights violations committed by the region's military dictatorships during the 1970s and 1980s.

On Friday, Argentine President Cristina Fernandez de Kirchner and the head of UNESCO inaugurated the International Centre for the Promotion of Human Rights on the grounds of the former school.

"The centre is a symbol of the contribution of Latin America to the promotion of human rights on a global level," UNESCO Director-General Koichiro Matsuura said, referring to the ongoing trials and investigations of former leaders of the region's military dictatorships.
from my october 2007 post...
The Naval Mechanics School (ESMA), located in Buenos Aires, is one of nearly 400 concentration camps/torture centers that operated in Argentina during the dictatorship. It is estimated that over 5,000 people were interrogated and tortured at ESMA and only 150 survived. ESMA had specially equipped detention and torture rooms as well as "birthing" rooms. Many of the children brought to ESMA and other concentration camps with their parents, or babies born at these facilities, were either tortured and ultimately killed in an attempt to extract information from their mother, or were seized and given to military families. In recent years, efforts initiated by the Grandmothers of the Plaza de Mayo have been successful in confirming the "true" identity (using DNA testing) of about 85 of roughly 400 children who were "disappeared."
it was an ugly and horrifying time, and, to this day, few argentines really want to talk about it...
Labels: Argentina, Barrio Nuñez, Buenos Aires, Guerra Sucia, Parque de los Niños, Paseo de la Costa, UNESCO Human Rights Center
Submit To Propeller
Tweet