Climate change - between a rock and a hard place in Argentina

global warming or no global warming, it's clear that a lot of things about the climate are going nuts...

you've got the drought...
For months now, yellowed pastures, cracked soil and dead livestock have been the landscape of what otherwise are the most productive farming areas of Argentina, Brazil, Paraguay and Uruguay. Scientists say it is so far impossible to determine if the drought is a manifestation of climate change processes.

"Climate change cannot be characterised by one single event, but rather by a series over the long term," University of Buenos Aires climatologist Vicente Barros, member of the Intergovernmental Panel on Climate Change (IPCC), told Tierramérica.

Some experts believe the lack of rain could be related to the influence of La Niña, the cool phase of the cyclical climate event known as El Niño/Southern Oscillation, which changes the surface temperature of equatorial Pacific Ocean currents and affects the region's climate.

"La Niña is still very strong and the forecasting models aren't adjusted to reflect the disturbances it causes," agricultural engineer Eduardo Sierra, an Argentina climate expert, finds himself explaining to someone almost daily.
and then you've got this, all in the same region...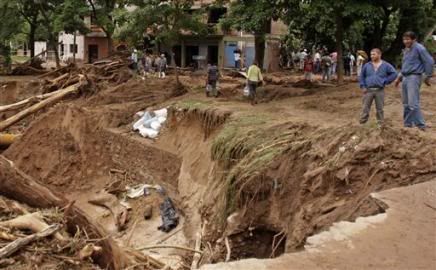 People look at debris after a massive mudslide in Tartagal, a small town
on Argentina's border with Bolivia, Tuesday, Feb. 10, 2009. Officials say
at least eight people are missing and more than 750 residents have been
evacuated after the massive mudslide Monday when heavy rains flooded
the main river that runs through the town and triggered landslides along
banks.
A massive mudslide set off by heavy downpours has swept away a railway bridge and swamped houses in the Argentine town of Tartagal.

At least two people were reported missing after the river running through the town broke its banks, flooding roads and triggering landslides.

Some buildings were submerged in up to 1.5m (5ft) of mud.

The heavy rains come as parts of Argentina are suffering their worst prolonged drought in decades.

Torrential downpours caused the River Tartagal to overflow, with floodwaters sweeping away vehicles and inundating roads.

Local authorities said the mudslide had destroyed a railway bridge, making access to the town, which lies on the border with Bolivia, all the more difficult.

The governor of Salta province, Juan Manuael Urtubey, said some 10,000 people had been affected by the mudslide and flooding.
make whatever argument you want, it's clear that, as lewis black says, "something is as-KEW...!"
Labels: Argentina, climate change, drought, flood, global warming, Tartagal
Submit To Propeller
Tweet