The tragedy of Gaza continues
having spent three weeks in january in jordan, right across the border from israel, in a city that harbors palestine refugees dating back from the late 1940s, the thought of the children caught up in this is heartbreaking...

thanks to juan cole...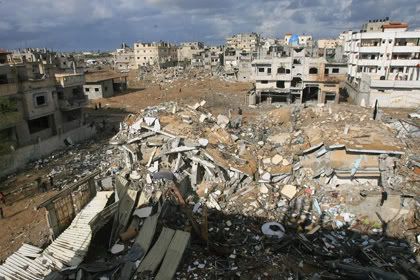 People walk amid debris on a street strewn with rubble from
buildings bombed during the current military incursion, in the
southern city of Rafah in the Gaza Strip.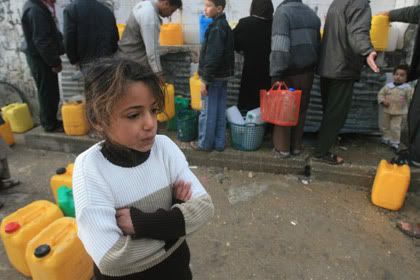 A a girl waits her turn to fill water containers at a public safe
water tap in the southern city of Rafah, a few days after the
ceasefire was declared. Approximately 500,000 people have
no access to running water.
Gaza Children's Appeal



Life for children in the Gaza Strip continues to deteriorate. Shortages of electricity, fuel, safe water and sanitation are having a serious impact on the lives of women and children and the recent conflict is adding to their suffering.

The population of Gaza has now become totally dependent on humanitarian aid for its survival. There are shortages of foodstuffs including flour, rice, sugar, dairy products, milk, canned foods and fresh meats. Last year, 1.4 million Palestinians were estimated to be food insecure.

The health system is overwhelmed, having already been weakened by the 18 month blockade.

Utilities are barely functioning: the only electric power plant has shut down. At the moment, hospitals are relying on back-up generators. The breakdown of these generators would pose a serious risk to public health.

The water system provides running water just once every five to seven days. The sanitation system cannot treat sewage and is dumping 40 million litres of raw sewage into the sea daily.
to donate online, click here...
Labels: children, Gaza, Gaza siege, Israel, Juan Cole, Palestine, UNICEF
Submit To Propeller
Tweet