And now, for something COMPLETELY different * - Titanoboa
great jumping jehoshophat...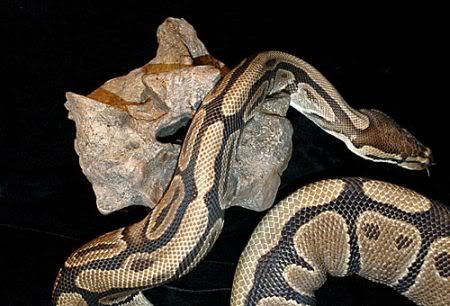 A python creeps over a vertebra of a Titanoboa cerrejonensis,
the fossil remains of which were discovered in Colombia.
It was the mother of all snakes, a nightmarish behemoth as long as a school bus and as heavy as a Volkswagen Beetle that ruled the ancient Amazonian rain forest for 2 million years before slithering into nonexistence.

Now this monster, which weighed in at 2,500 pounds, has resurfaced in fossils taken from an open-pit coal mine in Colombia, a startling example of growth gone wild.

Modern boas and anacondas, which average less than 20 feet in length and reach a maximum of 30 feet, have been known to swallow Chihuahuas, cats and other small pets, but this prehistoric monster snacked on giant turtles and primitive crocodiles.

"This is amazing. It challenges everything we know about how big a snake can be," said herpetologist Jack Conrad of the American Museum of Natural History in New York, who was not involved in the research.

The snake's estimated length, 43 feet, "is the same as the largest Tyrannosaurus rex that we know of, although it only weighs one-sixth as much," he said.
* one of my favorite expressions, with thanks to monty python...
Labels: American Museum of Natural History, boa constrictor, Colombia, Monty Python, snakes
Submit To Propeller
Tweet