The Bush administration memos behind torture, detention and warrantless wiretapping
from raw story...
Details about more than three dozen secret memoranda written by Bush Administration officials now sit atop a chart created by public interest reporting group. The memos track new details about dozens of secret Bush Administration legal positions on torture, detention and warrantless wiretapping.

Meanwhile, Obama's freshly-confirmed Attorney General Eric Holder told senators that he was open to declassifying White House legal memos if no support for their original classification could be found, signaling a likely showdown with former President George W. Bush over executive privilege.
from propublica...
The Missing Memos


by Dan Nguyen and Christopher Weaver, ProPublica - January 28, 2009



The Bush administration's controversial policies on detentions, interrogations and warrantless wiretapping were underpinned by legal memoranda. While some of those memos have been released (primarily as a result of ACLU lawsuits), the former administration kept far more memos secret than has been previously understood. At least three dozen by our count.

The decision to release them now lies with President Obama. To help inform the debate—and inject an extra dose of accountability—we're posting the first comprehensive list of the secret memos. (The ACLU first compiled a list, which ProPublica verified and expanded on.)



Note: Our list is quite inclusive, but we have chosen to leave off some documents, such as early drafts of later memos.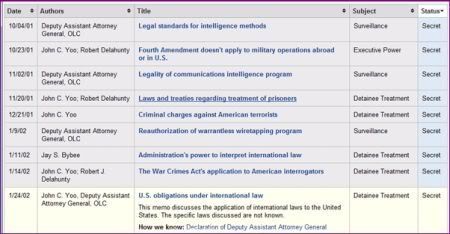 Click here for more
can we PLEASE get rolling on PROVING we are a nation governed by a constitution and the rule of law...? PLEASE...?
Labels: ACLU, Barack Obama, Bush Administration, David Addington, Eric Holder, John Yoo, Pro Publica, rule of law, secret detention, torture, U.S. Constitution, warrantless domestic wiretapping
Submit To Propeller
Tweet