Wonderful news! [UPDATE - Dow closes down 777.68]
look, i don't wish anyone ill in a financial collapse... i've got a small nestegg - very small - tucked away in a 401K and my oldest son and his wife are watching theirs vanish before their eyes... but, let's get real... the bailout bill wasn't designed to do anything but preserve the status quo with a little window dressing thrown in to appease the masses and let our so-called progressive, liberal democrat congressfolks claim that they have the common good of the country at heart... horsehockey, as mash's colonel potter used to say...

meanwhile, take a look at the dow jones as of 3:37 p.m. edt...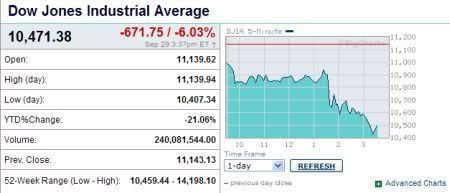 [UPDATE]
yikeys...! now THAT'S a steep tumble...!
Dow Jones Industrial Average



29 Sep 16:30 10365.45

-777.68
Labels: 401K, bailout, Congress, Dow Jones, economic collapse, financial markets, financial meltdown
Submit To Propeller
Tweet