Using Obama's visit to Afghanistan as a springboard, let's look at what's going on there

it ain't pretty...

civilian casualties in two separate incidents...
At least 13 Afghan police and civilians have died in two incidents involving international forces, officials say.

Four Afghan police and five civilians died in an apparently mistaken air strike by international coalition forces in Farah province.

Separately, the Nato-led Isaf said it had "accidentally" killed at least four civilians in Paktika province.

The incidents are the latest in a series of controversial clashes involving foreign troops.
seven and a half years AFTER the u.s. topples the taliban, no infrastructure...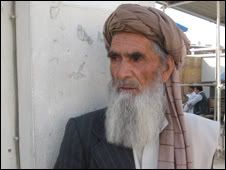 Haji Baz Mohammad
What puzzles poorer Afghans is why so many basic problems haven't been solved, despite the billions of dollars of international aid.

A short walk from the affluent neighbourhoods of Wazir Akbar Khan and Shari Naw, in the streets of downtown Kabul, Afghanistan's unemployed are gathered in their hundreds.

Most say they have to wait for days, hoping to find one day's work to feed their entire family.

Kabul is considered the safest spot in the country, but basic services such as clean drinking water, electricity, and sewage systems remain unavailable to most people.

Waiting outside one of Kabul's main government hospitals is Haji Baz Mohammad. He has accompanied a patient from his home province in northern Afghanistan. He is busy praying and is visibly sad.

"We are not politicians or people who have the aid money," he says. "Where are the roads, clinics and reconstruction that were promised to us?"
i spent my first two weeks in kabul puzzling over those same questions... where's the infrastructure...? where has the money gone...? it seems that the afghan on the street can answer those questions...
Saqib Baghlani, 43, a high school teacher, sits on his old Chinese bicycle.

He welcomes the demise of the Taleban. "Afghanistan has made remarkable progress compared to its pre-war and Taleban days," declares the tall, confident, blue-eyed teacher.

But he says the failures of his government are unacceptable.

He insists that President Hamed Karzai should fire corrupt officials and provide people with basic services, such as health care and clean drinking water, as this could bring peace.

Afghan children at a refugee camp in Kabul, Afghanistan 12/06/08
There is growing international pressure to improve living standards

"Go and see who owns these expensive houses in (the suburb of) Wazir Akbar Khan and who is driving land cruisers," he says. "Karzai should ask these officials how they got so rich overnight, instead of making empty promises again and again."
karzai doesn't have to ask... he knows the answer... it is under his leadership and with his administration's tacit consent that those fat cats have gotten ever fatter... and, yes, some of that money left afghanistan in my pocket, but damn little i can assure you in comparison to the billions being raked in by dyncorp, louis berger, and kbr...

so what does our erstwhile presidential candidate, barack obama, propose...?
Democratic presidential candidate Barack Obama pledged steadfast aid to Afghanistan in talks with its Western-backed leader Sunday and vowed to pursue the war on terror "with vigor" if he is elected, an Afghan official said.

[...]

Obama has made Afghanistan a centerpiece of his proposed strategy for dealing with terrorism threats.

The Illinois senator has said the war in Afghanistan, where Taliban and al-Qaida-linked militants are resurgent, deserves more troops and more attention as opposed to the conflict in Iraq.
and just what exactly do the AFGHANS think of more troops...?

from juan cole...
The USG Open Source Center translates a report in Dari Persian on a parliamentarian and two close observers from Afghanistan who entertain the severest doubts about Barack Obama's plan to send more US troops to Afghanistan.

Afghan Observers Sceptical of Senator Obama's Plan To Send More Troops
Voice of the Islamic Republic of Iran External Service
Saturday, July 19, 2008
Document Type: OSC Translated Text

An Afghan parliamentarian has criticized one of the US presidential candidates for his plan to deploy more troops in Afghanistan. Elaborating on his foreign policy this week, Barack Obama said that as president, he would send two more US combat brigades to the Afghan theatre.

According to a report (source indistinct) from Kabul, Afghan MP Kabir Ranjbar asserted on Friday that increasing the number of US and other foreign servicemen would not help Afghanistan at all.

Wahid Mozhda, another Afghan political observer, has also warned that the Obama's plan to deploy up to 10,000 additional troops will worsen the situation in Afghanistan. This Afghan observer states according to this plan, the US is trying to resolve the problem through military measures, which is obviously not an effective strategy.

In addition, Mr Fahim Dashti, a journalist and observer, has said that the US government officials have decided to increase troops in Afghanistan, at a time when they have failed to defeat remnants of the Taliban and Al-Qa'ida in this country. Fahim Dashti says sending additional US and other foreign troops to Afghanistan will cause more problems in the long term, because it may antagonize the people's anti-American feelings. The Afghan analyst accentuated that countries like the USA should organize and equip the Afghan native forces, including the national army and police, as soon as possible if they really want to put an end to insecurity in Afghanistan.
i agree... more troops is not the answer...

this from cbs on obama's visit...
at least obama had the guts to go where no high-level u.s. official has gone - jalalabad...
Labels: Afghanistan, Al Qaeda, Barack Obama, CBS News, civilan casualties, corruption, Hamid Karzai, Jalalabad, Juan Cole, Kabul, Taliban, Wazir Akbar Khan
Submit To Propeller
Tweet