$29 TRILLION is the Federal Reserve bailout total...!
when we get into the trillions of dollars, we lose all comprehension of scale... one trillion is too vast a number to wrap our heads around, god only knows, but TWENTY-NINE...?

barry ritholtz...
There is a fascinating new study coming out of the Levy Economics Institute of Bard College. Its titled "$29,000,000,000,000: A Detailed Look at the Fed's Bail-out by Funding Facility and Recipient" by James Felkerson. The study looks at the lending, guarantees, facilities and spending of the Federal Reserve.

The researchers took all of the individual transactions across all facilities created to deal with the crisis, to figure out how much the Fed committed as a response to the crisis. This includes direct lending, asset purchases and all other assistance. (It does not include indirect costs such as rising price of goods due to inflation, weak dollar, etc.)

The net total? As of November 10, 2011, it was $29,616.4 billion dollars — (or 29 and a half trillion, if you prefer that nomenclature). Three facilities—CBLS, PDCF, and TAF— are responsible for the lion's share — 71.1% of all Federal Reserve assistance ($22,826.8 billion).
here's the breakdown...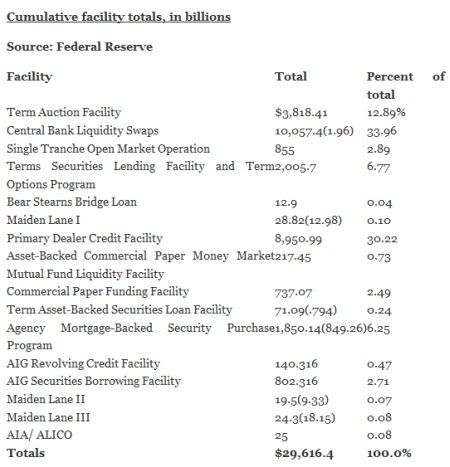 here's a relatively understandable explanation for the method used to come up with the $29T total...

l. randall wray writing in economonitor...
Think about it this way. A half dozen drunken sailors are at the bar, and the bartender refills their shot glasses with whiskey each time a drink is taken. At any instant, the bar-keep has committed only six ounces of booze. That is a useful measure of whiskey outstanding. But it is not useful for telling us how much the drunks drank. Bernanke would like us to believe that if the Fed newly lent a trillion bucks every day for 3 years to all our drunken bankers that we should total that as only a trillion greenbacks committed. Yes, that provides some useful information but it does not really measure the necessary intervention by the Fed into financial markets to save Wall Street.

And that leads to the final way to measure the Fed's commitments to propping up our drunks on Wall Street: add up every single damned loan, guarantee and asset purchase the Fed made to benefit banks, banksters, real Housewives on Wall Street, fraudsters, and their cousins, aunts and uncles. This gives us the cumulative Fed commitments.

The final important consideration is to separate "normal" Fed actions from the "extraordinary" or "emergency" interventions undertaken because of the crisis. That is easier than it sounds. After the crisis began, the Fed created a large alphabet soup of special facilities designed to deal with the crisis. We can thus take each facility and calculate the three measures of the Fed's commitments for each, then sum up for all the special facilities.

And that is precisely what Nicola Matthews and James Felkerson have done. They are PhD students at the University of Missouri-Kansas City, working on a Ford Foundation grant under my direction, titled "A Research And Policy Dialogue Project On Improving Governance Of The Government Safety Net In Financial Crisis". To my knowledge it is the most complete and accurate accounting of the Fed's bail-out. Their results will be reported in a series of Working Papers at the Levy Economics Institute (www.levy.org). The first one will be posted soon, and is titled $29,000,000,000,000: A Detailed Look at the Fed's Bail-out by Funding Facility and Recipient. Watch for it!
to say that i'm speechless would be a gross understatement...
Labels: bailout, Barry Ritholtz, EconoMonitor, Federal Reserve System, L. Randall Wray
Submit To Propeller
Tweet