A smidgen of good news from Tahrir Square
i posted extensively on the february uprising in egypt (here) and have been following it ever since, altho' recently i've been focusing more on our own domestic uprising...

i was thrilled beyond words to see egyptians come together to challenge their u.s.-sponsored puppets and persist beyond all reasonable limits in insisting that real power was vested in the egyptian people and not their super-rich elite overlords... i was glued to the al jazeera livestream for the better part of every day and repeatedly felt chills running up and down my spine as i watched...

i didn't believe for a single moment then that the egyptian ptb would easily step aside any more than i believe now that our own super-rich elite overlords in the u.s. will do anything other than give a condescending nod to the concept of citizen-led democracy, social justice and the quaint notion of service to the common good...

i give the egyptian people enormous credit... their persistence is a shining example for us all... may they prevail...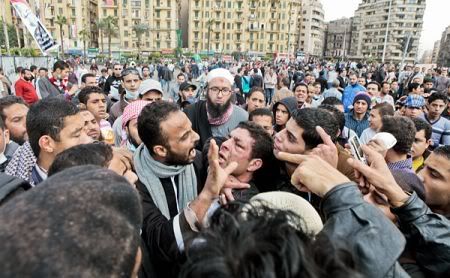 A suspected police informer was surrounded by an angry crowd after he
was severely beaten in Tahrir Square in Cairo on Monday.
Moises Saman for The New York Times
Egypt's Civilian Government Submits Offer to Resign

After three days of increasingly violent demonstrations, Egypt's interim civilian government submitted its resignation to the country's ruling military council on Monday, bowing to the demands of the protesters and marking a crisis of legitimacy for the military-led government.

The step was reported by Egyptian television, and it remained to seen whether the military would accept or reject the offer of the resignation, which followed the most sustained and bloodiest challenge to military's hold on power since the fall of Hosni Mubarak as demonstrators clashed with security forces around Tahrir Square and across the country.
again, may they prevail, and may my country finally decide to pull its head out of its ass...
Crackdown in Cairo, excuses in Washington



As Egyptians return to Tahrir Square, the Obama administration sides with the military
keep your eyes and ears open... very shortly, we'll be inundated with propaganda telling us that egypt will fall under the control of radical factions of islam if we don't support the egyptian military and their rule of brutality...

and, btw, where did the egyptian military get their equipment and learn their tactics...?
Egypt uses U.S. teargas on pro-democracy crowds



600 injured as military clashes with demonstrators demanding return to civilian rule
Labels: Cairo, democracy, egypt, Egyptian military, militarism, protestors, Tahrir Square, tear gas
Submit To Propeller
Tweet