Wondering why trained killers, steeped in violence, might consider suicide as an option
let's consider what goes into the making of what our government, in the most horrific perversion of verbiage imaginable, now prefers to call "warfighters"...

without passing judgement, the typical military recruit occupies a lower rung on the socioeconomic scale, has internalized a great deal of the media and government propaganda (new car, shiny electronic toys, owning your own mcmansion, a smoking hot squeeze, gq fashion, and, last but not least, the united states as global #1) dished out on a daily basis, has limited job prospects, and is educated to the high school level or perhaps a year or two of community college... he - or she - sees the military as a respectable option, a way to learn skills attractive to future employers, and as a way to be fed, clothed, and housed for a few years in the bargain...

enter basic training...

basic training is carefully constructed to strip away as much of your former identity as possible and replace it with the identity of a killing machine... the threat of a depersonalized, dehumanized "enemy" is constantly being thrown in your face along with the notion that it is you and your military "buddies" (the term "buddy" is military code for watching someone's back) who are the only thing standing in the way of the united states being overrun by the "enemy" who wants nothing more than to destroy the entire american way of life...

let's assume that, following basic and advanced training, the recruit receives an assignment in afghanistan... since i am somewhat familiar with both the military and afghanistan, i have a fairly good idea of what he or she is exposed to and, believe me, none of it is pretty... i've stood behind a soldier in line at the camp phoenix post office who was inquiring about how to best wrap body parts for mailing... (you can only imagine the scenario in which they were obtained...)

every day, whether there's action or not, revolves around either actual or potential violence, the kind of violence that scatters the blood, intestines and body parts of adults, the elderly, women and children everywhere, some of it perpetrated by others and some perpetrated by you... the only person-to-person contact with real afghans is with interpreters, basically mechanical accessories to a patrol or a sweep... it's almost impossible to get to know the locals as fellow human beings and the dehumanized stereotype of the afghan as murderous dirt-ball never has the chance to be challenged or dispelled...

the intensity of such circumstances cannot be overstated... it seeps into your very bones and is so far removed from the daily lives of those you left behind that you might just as well be on another planet... such "seepage" happens in the course of a single deployment and multiple deployments only lock it in... imagine coming back to the u.s. (and many return to a domestic shambles that has formed in their absence) to take in all the "support our troops" bling and trying to accept that your life will never be what you hoped it would be and that the experiences you have racked up in the past year, two years, three years, five years, will be a burden on you for the rest of your life...

and we wonder why so many returnees chose suicide as an option...

then you're treated to the vapid, soulless, essentially dishonest treatment of returnee suicides in today's nyt...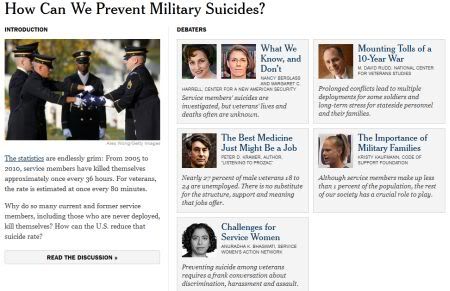 The statistics are endlessly grim: From 2005 to 2010, service members have killed themselves approximately once every 36 hours. For veterans, the rate is estimated at once every 80 minutes.

Why do so many current and former service members, including those who are never deployed, kill themselves? How can the U.S. reduce that suicide rate?
how...? in all the blather, the only really effective solution is the one that the nyt would never allow to be considered - let's stop the endless war...
Labels: Afghanistan, endless war, NYT, suicides, Veterans, violence
Submit To Propeller
Tweet