Occupy Frankfurt
i think it's important to keep in mind that the occupy movement is truly a global phenomenon...

from spiegel...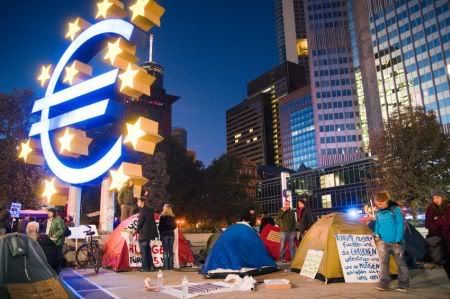 The "Occupy Frankfurt" protesters have set up camp outside the European Central Bank
in Frankfurt, where dozens of tents have been pitched.
The "Occupy" movement has garnered support from all parts of the world, including Germany, where protestors have set up camp in front of the European Central Bank in Frankfurt. [...]

The "Occupy" movement began in earnest in New York, where a group of activists formed under the name " Occupy Wall Street" in mid-September to protest against the sheer power of the financial markets. Since then it has grown to become a global movement, with tens of thousands of participants gathering each week for protests, including several thousand in Frankfurt, the center of "Occupy Germany" activities. Occupy supporters in the German financial center have taken over a small park located directly in front of the European Central Bank (ECB).

Around 100 tents have been pitched in front of the banking city's glass-and-steel skyscrapers. "You occupy the money, we occupy the world," one protest sign reads. During the daytime, working groups discuss capitalism, education and culture. During the afternoons and evenings, an "Asamblea" takes place, a gathering held in an outdoor public space during which speaking time is granted to anyone who wants it and democratic decision-making is made at the grass-roots level. The movement is organized via Facebook and Twitter, and an Occupy website provides information for its supporters. So far, those supporters have been overwhelmingly male, and female visitors to the protest camps are relatively scarce. But few could complain about a lack of support. The media is reporting on Occupy, politicians including Chancellor Angela Merkel have expressed their sympathies, and new people interested in what is happening drop by the ECB campsite each day, with some simultaneously raising their own tents.

Each evening, local bakeries deliver leftover rolls and cakes to the camp's mess tent, where warm meals are cooked and served twice each day. The Occupy protesters have made a point of welcoming their neighbors, including homeless people known to drop by. If you're seeking to create a more just society, they argue, you've got to start at home.
i find it extremely encouraging to see this kind of response across the pond...
Labels: European Central Bank, Occupy Frankfurt, Occupy Wall Street, Spiegel
Submit To Propeller
Tweet