Oakland general strike and prepping for the G20 in Nice
the oakland general strike...
About 1,000 demonstrators blocked the intersection of 12th Street and Broadway late Wednesday morning, as the Occupy Oakland general strike marched in a loop around downtown Oakland following a peaceful rally at Frank Ogawa Plaza during the first of three planned actions to disrupt business.

There was nary a police officer in sight as some in the crowd stood in front of Wells Fargo and Comerica bank branches on the corners -- with a few in the crown occasionally banging on the locked doors.

Several businesses, including the Men's Wearhouse and the Grand Lake Theater closed their doors Wednesday in support of today's planned General Strike as thousands of people are expected to join the Occupy Oakland movement to protest the inequality of wealth and power. The UC office of the President is also closed today over concerns that BART might be shut down at some point and more than 1,000 people who work in the building wouldn't be able to get to or from work.

The city of Oakland is open for business, and contrary to rumors, the Port of Oakland is not shut down, said ILWU spokesman Craig Merrilees. About 40 longshore workers out of about 325 expected on the morning shift didn't show up, however trucks are going through the gates and cranes are moving cargo on and off the ships.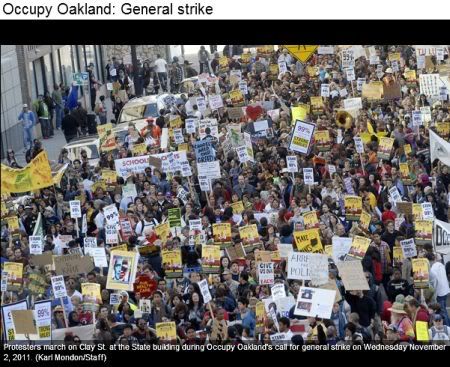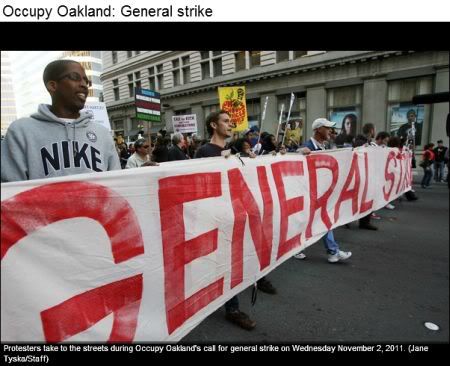 meanwhile, protestors prepare for the g20 gathering in cannes...
The placard above these two children reads, "Not for sale." Protesters in
the French city of Nice came with an array of complaints of the current
global financial system, including what they regard as unfair labor laws
and insufficient taxes on the world's highest earners.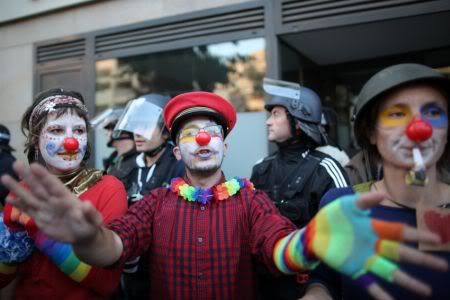 Protesters were out in Nice, France on Tuesday, urging representatives of
leading rich and developing nations to devote fewer efforts to helping major
banks and corporations and more to ensuring a fairer distribution of wealth.
Labels: Cannes, G20, Nice, Oakland Strike, Occupy Oakland, protestors
Submit To Propeller
Tweet