A Park Avenue M.D. Rheumatologist supports OWS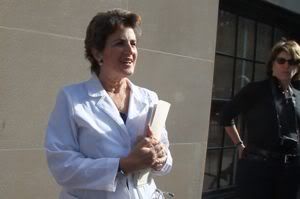 Alexander Reed Kelly
Bertha Bauer is a board certified rheumatologist
who has been practicing medicine for 30 years.
she has an office in a building very close to where jpmorgan chase ceo jamie dimon lives... here's what she had to say...
I am completely sympathetic to what's going on here. My profession is being ruined and decimated by the greed of Wall Street, by Big Pharma, by insurance companies. I'm practically forced out of practice after 30 years because I'm honest, because people looking at ways of hurting me and patients while CEOs are making millions and billions of dollars in the industries that control us now. So I am—I came running out of my office to say 'Yes! Yes! I agree with you.'
nothing like a quote from somebody in the 'hood...
Labels: banksters, big pharma, elites, greed, insurance companies, Jamie Dimon, JPMorgan Chase, Occupy Wall Street, super-rich
Submit To Propeller
Tweet