Goldman Sachs takes a 3d Quarter loss but that doesn't impact the bonus pool
THIS is precisely why ows is garnering such a response in the u.s. and worldwide...
Today's Goldman Sachs earning reports provides a valuable lesson on how things really work inside Wall Street's largest investment houses. Goldmhttp://www.blogger.com/img/blank.gifan Sachs had an awful three months, losing $428 million in the third quarter of 2011, and yet it continued to shovel billions into the bonus pool it will share with its employees at year's end.

Through the first nine months of 2011, Goldman set aside $10 billion in its compensation fund. If Goldman's 30,000 employees split that bounty evenly, that would work out to $333,000 per person—plus the billions more Goldman will no doubt set aside in the last few months of the year.

[...]

But that's the beauty of working at a major investment bank. Performance doesn't matter nearly as much as just showing up. Goldman booked $13 billion in pre-tax profits in 2010—a steep drop from the $20 billion the bank booked in 2009. Despite a precipitous drop in profits between 2009 and 2010 and a stock stuck in neutral throughout the year, the Goldman board of directors raised Blankfein's base salary to $2 million, up from $600,000, and showered an extra $13 million in stock grants on Blankfein and his executive team.

Not bad for the executives of a bank forced to pay a $550 million fine after being accused by the SEC of duping its clients by selling them shares of a morhttp://www.blogger.com/img/blank.giftgage-backed security they allowed a hedge firm to secretly hand-pick. Still, this is hardly like the fat and happy subprime mortgage days, when Goldman was buying toxic subprime mortgages and selling them to unsuspecting clients. In 2007, the year before the economic collapse, Blankfein made $68 million in stock and bonus money.

Is it any wonder the Occupy Wall Street crowd might think there's something rotten about the system?
meanwhile, lloyd blankfein, goldman crook-in-chief, is crying all the way to the bank to deposit his haul...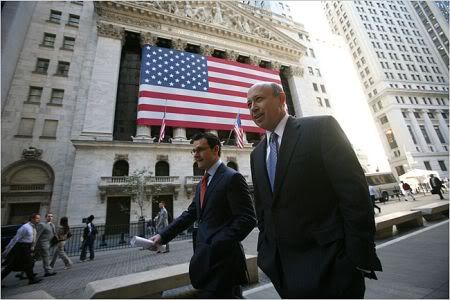 Lloyd Blankfein, CEO, Goldman Sachs
"Our results were significantly impacted by the environment and we were disappointed to record a loss in the quarter," said Lloyd Blankfein, the chairman and chief executive, in a statement.
yes, is it any wonder...?
Labels: banksters, elites, executive bonuses, Goldman Sachs, Lloyd Blankfein, Occupy Wall Street, subprime mortgage crisis, super-rich
Submit To Propeller
Tweet