Thursday photoblogging - Istalif, Afghanistan
i had a wonderful experience on wednesday... i went with a small group to the village of istalif, approximately an hour drive northwest of kabul... i have been dying - no pun intended - to get out to the afghan countryside ever since i first came here in march 2008 but due to the repressive security restrictions, i hadn't been able to pull it off - until now...

to say that it was beautiful is an understatement... tall trees both deciduous and evergreen, pomegranate bushes, a valley with a rushing river, all surrounded by the incredibly tall and rugged hindu kush mountains, with a fresh breeze untainted by the heavy pollution of kabul made it an afghanistan experience i won't soon forget...

here's a bit about istalif...
Istālif (Persian:

استالف

) is a village about 18 miles northwest of Kabul, Afghanistan, situated at

34.8403°N 69.1000°E

at 1693 m altitude.

[

1

]

It is the center of Istalif District, Kabul Province, Afghanistan. The village was destroyed during the long-lasting wars around Kabul. There are a few repaired or newly constructed buildings. The village needs a lot of work to be done to return its previous state. Istalif is famous for its handmade glazed potteries. Its name might derive from Greek staphile 'bunch of grapes' or Parachi estuf 'cow-parsnip'.
istalif is located on the edge of the shomali plain...
Shomali Plain is a plateau north of Kabul. It is approximately 30 km wide, and 80 km long. The region was an enormous battleground for almost all of the 23 years of continuous war in Afghanistan. During the Taliban dictatorship, fighting was relatively sparse. But the plateau was maintained as a fighting frontier by Ahmed Shah Massud – one of the last resisters of the regime. The valley – fertile and rich with water – was once Kabul's garden: fruit and vegetables were cultivated here, and Kabul's residents picnicked here on weekends.

Today, the Shomali Plain is a desert. The destruction on this former battleground is almost absolute. There isn't a single house or a single tree – hardly a bush was spared: anything which might have served as a cover was removed.

Over a length of about 60 km, a 10 meter wide strip runs uninterrupted to the left and right side of the road – its stones, which are painted red, indicate a minefield. Here, if you step out of your car, you only have to stoop down to collect bullet casings, metal fragments, or – sometimes – a well-preserved dud.

The landscape is furrowed with trenches, tank-wrecks, cars full of bullet-holes, and shipping containers torn apart by a hand grenade, their sides now bulging outward.
here's a few of my photos from the trip...

The Istalif Valley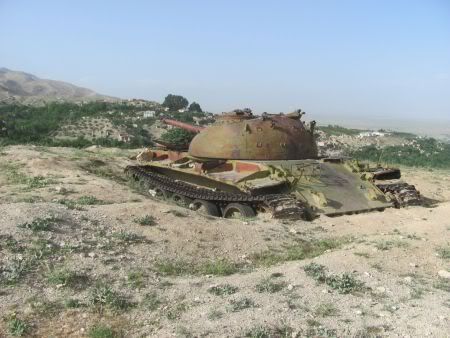 Abandoned and rusting tank, Istalif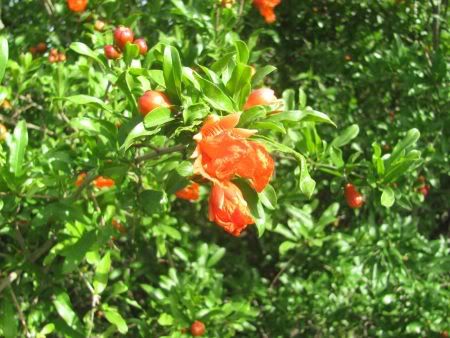 Pomegranate bush, Istalif
Ceramics shop, Istalif
Labels: Afghanistan, Istalif, Shomali Plain
Submit To Propeller
Tweet