Meanwhile, extrajudicial assassination remains OK because our leaders SAY it's OK
sad...
A federal judge has thrown out a lawsuit aimed at preventing the United States from targeting U.S.-born anti-American cleric Anwar al-Awlaki for death.

U.S. District Judge John Bates said in a written opinion Tuesday that al-Awlaki's father does not have the authority to sue on his son's behalf. But he says the case raises serious issues about whether the United States can plan to kill one of its own citizens.

Al-Awlaki has urged Muslims to kill Americans and has been linked to several terrorist attacks, including last year's shooting at Fort Hood, Texas. He's believed to be hiding in Yemen.

Administration officials have confirmed to The Associated Press that al-Awlaki is on a capture or kill list.
but, wait...! LOOK OVER THERE...! isn't that JULIAN ASSANGE arriving at magistrate court in london...?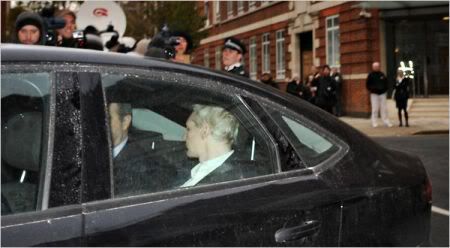 Stefan Rousseau/Press Association, via Associated Press
The WikiLeaks founder Julian Assange was driven into Westminster
Magistrates Court in London on Tuesday.
Labels: Anwar al-Awlaki, assassination, extrajudicial executions, Julian Assange, state-sponsored terrorism, U.S. citizens, Wikileaks
Submit To Propeller
Tweet