What happens when we shit on Mother Nature
mother nature shits back...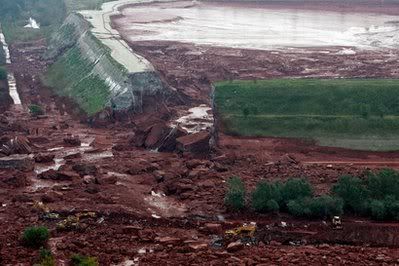 Aerial photo taken shows ruptured wall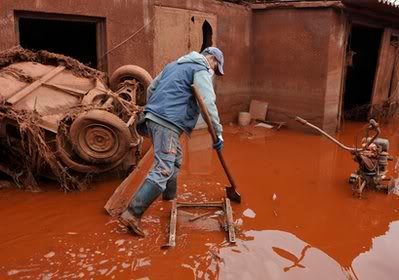 Villager checks his yard flooded by toxic mud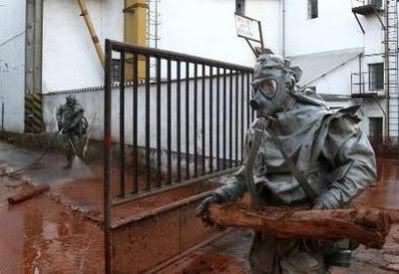 Rescue workers clear up toxic sludge
An aerial photo taken, Oct. 5, 2010 shows the ruptured wall of a red sludge reservoir of the Ajkai Timfoldgyar aluminum plant in Kolontar, Hungary. The sludge, a waste product in aluminum production, contains heavy metals and is toxic if ingested. A third person has died in flooding caused by the rupture. Six people were missing and 120 injured in what officials said was an ecological disaster. The government declared a state of emergency in three counties affected by the flooding.
truly horrifying and, if not contained or dealt with rapidly and effectively, could mean an even broader environmental catastrophe...
In Brussels, the European Union said it feared the toxic flood could turn into an ecological disaster for half a dozen European nations — those downriver from Hungary along the mighty Danube — and said it stood ready to offer help.

"This is a serious environmental problem," EU spokesman Joe Hennon told The Associated Press. "We are concerned, not just for the environment in Hungary, but this could potentially cross borders."
it's time we realized that our callous disregard for the planet we all share has consequences...
Labels: Environment, environmental damage, Hungary
Submit To Propeller
Tweet