Enough wealth in the world to give every single adult $43,800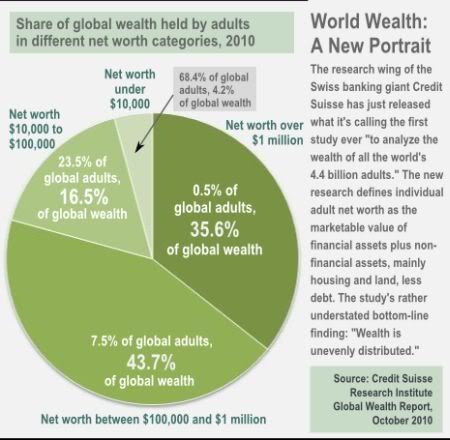 and if 50% of the world's population didn't have to get by with under 2% of the world's wealth while 1% hoard 43%, there wouldn't be so many desperate people and we might just have a chance at world peace...
The world's 4.4 billion adults, notes the new Credit Suisse research, now hold $194.5 trillion in wealth. That's enough, if shared evenly across the globe, to guarantee every adult in the world a $43,800 net worth.

But the world's wealth, of course, does not stand evenly divided, and the new Credit Suisse study, to its credit, neatly breaks down the arithmetic of our staggering global unevenness.

We now have, at the wealth spectrum's uppermost reaches, just over 1,000 billionaires and another 80,000 "ultra high net worth individuals" worth over $50 million each. We can add into this wealthy summit still another 24 million adults worth between $1 million and $50 million.

At other end of the global spectrum sit three billion people — "more than two thirds of the global adult population" – with an average wealth per adult less than $10,000. About 1.1 billion of these adults hold net worths less than $1,000.

"Our analysis," the Credit Suisse study says plainly, "finds some stark differences in the distribution of wealth."

The study's starkest data snapshot? Maybe this: Half the people aged 20 and over in the world today hold under $4,000 in net worth, after subtracting debts from assets. This half the world's population holds under 2 percent of world wealth.

The world's richest 1 percent, adults with at least $588,000 to call their own, hold 43 percent of the world's wealth, all by themselves.
isn't it time we changed this picture...?
Labels: elites, income gap, poverty, super-rich, working poor
Submit To Propeller
Tweet