Yeah, I know, I've been a little obsessive over Israel lately [UPDATE: The situation is deteriorating]
[UPDATE and BUMPED]
we knew this was coming...
Hundreds of Palestinians in east Jerusalem set tires and garbage bins ablaze on Tuesday and hurled rocks at Israeli riot police, who responded with rubber bullets and tear gas. The heaviest clashes in months broke out as an American envoy abruptly canceled a visit, deepening a U.S.-Israeli diplomatic feud.
at least the u.s. is holding to its line in the sand...
Washington notified Israel that its special Mideast envoy, George Mitchell, had indefinitely put off his trip to the region.
now, if the u.s. doesn't suddenly develop a case of "where's my cojones?"...
but they've got it coming...

juan cole...
The far rightwing government of Binyamin Netanyahu in Israel majorly sandbagged Vice President Joe Biden on Tuesday, demonstrating once again that it has not the slightest interest in pursuing a just peace with the Palestinian people or in trading a cessation of its colonization of the Palestinian West Bank for a comprehensive peace with the Arab world.

[...]

The Netanyahu government had announced a settlement freeze in much of the West Bank for 8 months, but does not include the areas it unilaterally annexed to the district of Jerusalem as West Bank territory. Nor is the 'settlement freeze' really any such thing, since there are plans to expand housing in existing colonies on the West Bank.

This controversy comes on the heels of demonstrations in al-Khalil/ Hebron and Jerusalem by Palestinians outraged by the unilateral Israeli designation of the Tombs of the Patriarchs and the tomb of Rachel, in Palestinian West Bank territory, as Israeli heritage sites. In Palestinian experience, such Israeli claims often precede Israeli annexation. While US mass media did not cover the demonstrations in any detail (much reporting from Israel in US media is by dual citizens or by reporters who have served or have children serving in the Israeli army), they are a big story in the Middle East, and the creeping Israeli expulsion of Palestinians from East Jerusalem is guaranteed to enrage the world's 1.5 billion Muslims and result in violence.

The Obama administration came into office determined to restart the negotiations between Abbas and the Israelis, with the aim of achieving a two-state solution. After over a year of meetings and carrying messages and cajoling, the patient-as-Job special envoy George Mitchell finally convinced Mahmoud Abbas to agree to indirect negotiations with Israel. For the past year, Abbas had refused to talk, on the grounds that the Israelis were actively colonizing the West Bank and so taking away the very territory that was subject to negotiation. How do you parlay with someone who is stealing from you at that very moment?
professor cole has also posted a very informative map that shows exactly how much territory palestine has had taken away since 1946...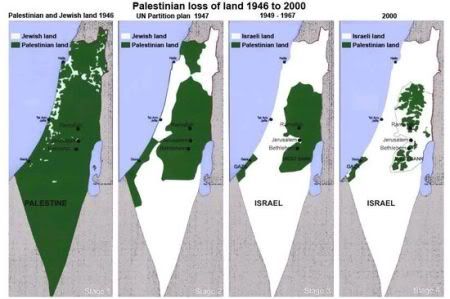 cole's post prompted andrew sullivan at the atlantic to put up some thoughts of his own...
The maps show what has happened since - in sixty years in terms of growing sovereignty and accelerating Israeli control. The Muslim population is expanding as the geographic extent of their political self-government keeps diminishing. While Jerusalem was once in the center of Palestinian territory - and the Israelis agreed to this, while the Arabs refused - it is now not only in Israel but all of it will soon be under sole Israeli control, as Netanyahu continues, despite pleas from his American benefactors and allies, merely to freeze them.

The point of the illustration was to provide some background to the now-unavoidable fact that Israel has every intention of expanding its sovereignty to the Jordan river for ever, to segregate Palestinians into walled enclaves within, and to station large numbers of Israeli troops on the Eastern border.
even lula da silva, brazil's president, in israel on a state visit, felt compelled to comment...
"We came here to talk about peace, but we also came here to strengthen our ties with Israel" Lula da Silva said at a welcoming ceremony in the Jerusalem residence of Israeli President Shimon Peres. "We are interested in pushing forward the peace process."

Lula da Silva later called for the establishment of a Palestinian state and said Israeli settlements were hurting the peace process. "The time has now come to open a circle of negotiations and to overcome mistrust," he said in a speech to the Israeli parliament.
israel is losing friends faster than i'm losing my hair... do ya s'pose it might be time for israel to re-think its genocidal policies...?
Labels: Andrew Sullivan, Brazil, George Mitchell, Israel, Israeli settlements, Juan Cole, Lula da Silva, Palestine, Palestinians, The Atlantic
Submit To Propeller
Tweet