Some info on the buying of elections by our corporatocracy
moveon's right... transparency alone won't cut it...
Democrats in Congress have proposed a bill intended to stop the flood of corporate money into elections. This is an incredibly urgent issue since the Supreme Court legalized unlimited political spending by big corporations.

Unfortunately, this bill would require most corporations to only report how many millions they spend. History shows that transparency alone won't stop big corporations from buying our elections.

We put together this chart make the point. If enough people understand why a "transparency-only" plan won't work, we can convince Congress to push for a stronger bill, like the Fair Elections Now Act.
the moveon chart...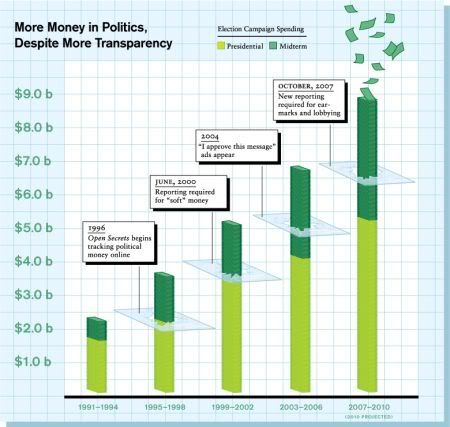 (click on chart for larger image)
Labels: 2010 election, 2012 election, campaign finance disclosure, campaign fund-raising, corporatocracy, transparent
Submit To Propeller
Tweet