Perfectly capturing the essence of Afghanistan

i haven't had the pleasure of traveling outside of kabul either by road or otherwise but i hope to have the experience one of these days soon and, yes, i would very much like to drive this road...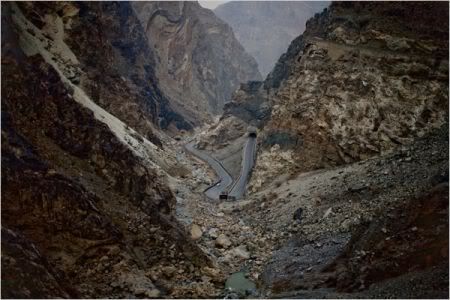 Kabul Gorge near Sarobi
Kabul-Jalalabad Highway
Kabul Gorge near Sarobi
Kabul-Jalalabad Highway
dexter filkins, the nyt correspondent who has spent years reporting from afghanistan, almost perfectly captures the essence of the country in this article...
Afghans Don't Let a White-Knuckle Highway Slow Them

The 40-mile stretch, a breathtaking chasm of mountains and cliffs between Kabul and Jalalabad, claims so many lives so regularly that most people stopped counting long ago. Cars flip and flatten. Trucks soar to the valley floor. Buses play chicken; buses collide.

The mayhem unfolds on one of the most bewitching stretches of scenery on all the earth. The gorge, in some places no more than a few hundred yards wide, is framed by vertical rock cliffs that soar more than 2,000 feet above the Kabul River below. Most people die, and most cars crash, while zooming around one of the impossible turns that offer impossible views of the crevasses and buttes.

[...]

One day last week, 13 accidents unfolded on the road in a mere two hours, all of them catastrophic, nearly all of them fatal. The daylong drizzle made the day slightly more calamitous than most. At one scene, a bloodied family grieved for their kin trapped in a flattened car. At another, a minibus lay crushed beneath the hulk of a jackknifed truck. At still another, the bottom of a ravine was filled with a car's twisted remains.

And yet even as those accidents spread themselves across the roadway, the cars sailed heedlessly past. Taxis and buses weaved and passed one another at bone-chilling speeds, with only millimeters separating them from bloody catastrophe.
i learned to drive in the mountains of colorado, both on and off road, and there's nothing i like more than a good driving challenge... i've driven in many countries and dealt with extremely dangerous and truly insane driving habits but, i must admit, afghans are perhaps the most insane of the lot...
Labels: Afghanistan, Colorado, Dexter Filkins, driving habits, Jalalabad, Kabul, Kabul Gorge, New York Times, Sarobi
Submit To Propeller
Tweet