The Chilean quake
i've been watching this story unfold since early this morning... i was stunned to hear that, according to one report, buildings shook as far away as the buenos aires microcentro (the core of the downtown area)... i also heard that some electricity and phones were out in mendoza, argentina... mendoza is just on the east side of the andes, several hundred kms from santiago with mt. aconcagua in between, so you can imagine how strong the quake was to pass through such a massif...

photos and text courtesy of yahoo news...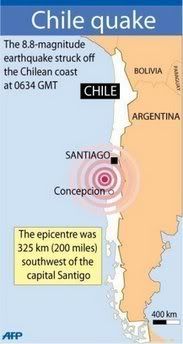 Map locating the epicentre of the huge
8.8-magnitude earthquake which has
rocked Chile, killing at least 78 people,
toppling buildings and triggering a
tsunami warning around the Pacific
rim of fire, President Michelle Bachelet
announced.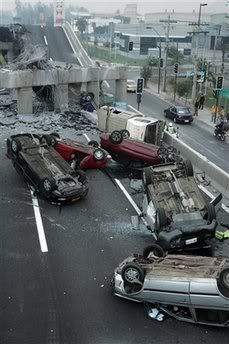 Vehicles that were driving along a highway
that collapsed during the earthquake near
Santiago are seen overturned on the asphalt
Saturday Feb. 27, 2010 after an 8.8-magnitude
earthquake struck central Chile early Saturday.
The quake hit 200 miles (325 kilometers)
southwest of the capital and the epicenter
was just 70 miles (115 kilometers) from
Concepcion, Chile's second-largest city.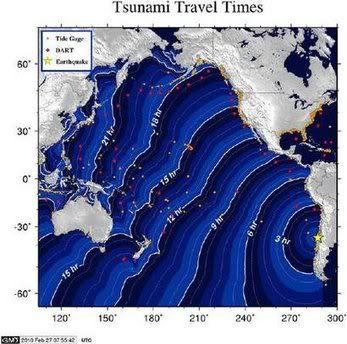 An image generated by the National Oceanic and
Atmospheric Administration (NOAA) West Coast
and Alaska Tsunami Warning Center shows the
projected tsunami travel times following a 8.8-magnitude
earthquake that rocked Chile early February 27, 2010.
what disturbs me the most is that almost all of the photos and news stories so far are from santiago and other cities several hundred kilometers from the epicenter... there has been very little yet from the city closest to the epicenter, concepcion... this is going to be evolving for days, particularly when considering that an 8.8 magnitude quake is on the order of 8-900 TIMES more powerful than the earthquake that recently hit haiti...
Labels: Chile, Concepcion, earthquakes, Haiti, Santiago, tsunami
Submit To Propeller
Tweet