I didn't think the U.S. could go any more over the top than it did with the U.S. Embassy in Iraq
i guess i was wrong... take a gander at this complete with moat...
A model of the US Embassy in Battersea, complete with
moat 30m wide and rolling parkland
The United States has unveiled plans for its new $1 billion high-security embassy in London — the most expensive it has ever built.

[...]

A moat 30 metres (100ft) wide and rolling parkland will separate the building from the main road, protecting it from would-be bombers and removing the need for ... blast barriers... .

The State Department sought to play down the cost of security measures, noting the expense of London building work. But the price puts the London embassy above the US's most fortified missions, including the Baghdad embassy, which cost $600 million (£390 million) but required a further $100 million of work on air conditioning, and the Islamabad embassy, still under construction, which has cost more than $850 million.
kinda makes me nostalgic for the mere $600M+ spent to construct the u.s. embassy in iraq...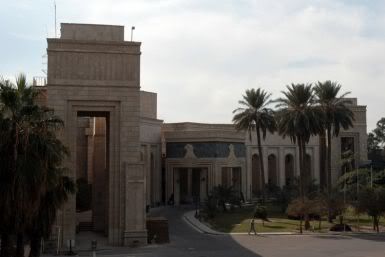 U.S. Embassy, Baghdad, Iraq
i wasn't aware of it, but there's also a new u.s. embassy under construction in islamabad, pakistan, at the hefty price tag of $850M... is it any wonder people in other countries hate us...?
(thanks to
kevin at cryptogon
...)
Labels: Baghdad, Islamabad, London, U.S. Embassy in Iraq, U.S. Embassy in Pakistan, U.S. Embassy in the UK
Submit To Propeller
Tweet