Graphically, why the situation in Afghanistan is so dire

if this doesn't tell the story, i don't know what does...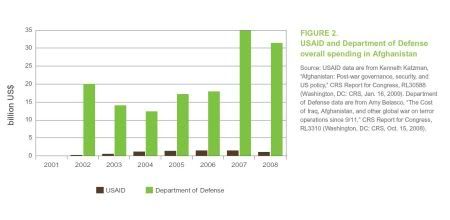 USAID and Department of Defense Overall Spending in Afghanistan
you wanna talk about an imbalance...? this visual representation of u.s. development vs. defense spending in afghanistan, to me at least, makes it staggeringly clear why afghanistan is such a goddam mess... of all the money that goes for defense in that country, you can be 100% sure that virtually none of it ends up in the pockets of those in most desperate need... it goes primarily to the u.s., afghanistan and third-country defense contractors whose lips are firmly attached to the u.s. money tit... meanwhile, the "just folks" afghans continue to scramble for even the tiniest crust of bread and soiled rags to feed and clothe their families...

however, hillary does make a point...
Secretary of State Hillary Rodham Clinton, during last week's marathon set of hearings on President Obama's new strategy in that war, gave two examples of forthrightness that are worth further examination: a discussion of trouble with expanding the workforce of the U.S. Agency for International Development in Afghanistan, and a tough look at how U.S. aid money is being slipped into the hands of the Taliban.
yes, hillary, i'm well aware that even the pathetically small amount that gets spent on development often doesn't go where it's most needed either, but you can bet that if more were spent on development and less on defense, it would increase the odds that at least SOME of it would get where it needs to go...
Labels: Afghanistan, Defense Department, economic development, Hillary Clinton, military contractors, poverty, State Department, Taliban, USAID
Submit To Propeller
Tweet