Something interesting in the WTF is THAT department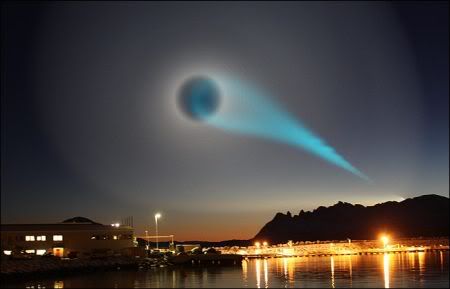 Jan Petter Jørgensen/Rex Features
astonishing, actually...
A mysterious giant spiral of light that dominated the sky over Norway [yesterday] morning has stunned experts — who believe the space spectacle is an entirely new astral phenomenon.

Thousands of awe-struck Norwegians bombarded the Meteorological Institute to ask what the incredible light — that could be seen in the pre-dawn sky for hundreds of miles — could possibly be.

[...]

Witnesses across Norway, who first glimpsed the space show at 8.45am, all described seeing a spinning 'Catherine wheel-style' spiral of white light, centred around a bright moon-like star.

A blue "streaming tail" appeared to anchor the spiral to earth, before the light "exploded" into a rotating ring of white fire.

The spiral spectacle — which lasted for two minutes — was seen by vast swathes of the Scandinavian country's almost five million population, with sightings as far north as Finnmark to Trondelag in the south.

Totto Eriksen, from Tromso, in northern Norway, was one of the thousands who bombarded Norwegian newspapers with sightings — after nearly crashing his car on spotting the spiral overhead.

He said: "I was driving my daughter to school when this light spun and exploded in the sky.

"We saw it from the Inner Harbour in Tromso. It looked like a rocket that spun around and around - and then went diagonally across the heavens.

"It looked like the moon was coming over the mountain - but then turned into something totally different.

"People just stopped and stared on the pier - it was like something from a Hollywood movie."
there's a video too...
Labels: astronomical phenomenon, Norway, UFO
Submit To Propeller
Tweet