The #1 surveillance society in the world, the UK, focuses on "domestic extremism"
make no mistake... these same tactics are being used in the u.s., it's just that the u.s. doesn't have as deep a tradition of investigative journalism that is willing to ferret them out...

all emphases added...
Police are gathering the personal details of thousands of activists who attend political meetings and protests, and storing their data on a network of nationwide intelligence databases.

The hidden apparatus has been constructed to monitor "

domestic extremists

", the Guardian can reveal in the first of a three-day series into the policing of protests. Detailed information about the political activities of campaigners is being stored on a number of overlapping IT systems, even if they have not committed a crime.

Senior officers say

domestic extremism

, a term coined by police that has no legal basis, can include activists suspected of

minor public order offences

such as peaceful direct action and civil disobedience.

[...]

• The main unit, the

National Public Order Intelligence Unit

(NPOIU), runs a central database which lists thousands of so-called

domestic extremists

. It filters intelligence supplied by police forces across England and Wales, which routinely deploy

surveillance teams

at protests, rallies and public meetings. The NPOIU contains detailed files on individual protesters who are searchable by name.

•

Vehicles associated with protesters

are being tracked via a nationwide system of automatic number plate recognition (ANPR) cameras. One man, who has no criminal record, was stopped more than 25 times in less than three years after a "

protest

" marker was placed against his car after he attended a small protest against duck and pheasant shooting. ANPR "

interceptor teams

" are being deployed on roads leading to protests to monitor attendance.

• Police surveillance units, known as

Forward Intelligence Teams

(FIT) and

Evidence Gatherers

, record footage and take photographs of campaigners as they enter and leave openly advertised public meetings. These images are entered on force-wide databases so that police can chronicle the campaigners' political activities.
then there's this lovely item innocuously called a "spotter card"...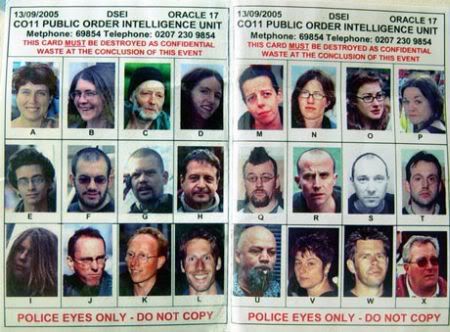 This kind of highly confidential document – pictured above – is rarely seen by the public.

These so-called "

spotter cards

" are issued by police to identify individuals they consider to be

potential troublemakers

because they have appeared at a number of demonstrations.

The photographs are drawn from police intelligence files. This card was apparently dropped at a demonstration against Britain's largest arms fair in 2005.

"H" is Mark Thomas, the comedian and political activist. Asked why it was justifiable to put Thomas, who has no criminal record, on this card, the Metropolitan police replied: "We do not discuss intelligence we may hold in relation to individuals."

Thomas had been acquitted of criminal damage after attaching himself to a bus containing arms traders at a previous fair.

The Met said: "This is an appropriate tactic used by police to help them identify people at specific events … who

may instigate offences or disorder

."
so, now peaceful direct action and civil disobedience, so-called "minor order public offenses," along with protest, an act of free speech, are defined as "domestic extremism"...?

there's a phenomenon called "psychological reciprocity" which, loosely defined, means that when people are treated a certain way, they tend to respond in the manner in which they're treated... in my professional life, i've seen it a million times... management characterizes front line workers as "lazy," "untrustworthy," "cry-babies," and generally no damn good and, guess what...? they tend to respond that way which, in turn, justifies management's attitude...

to quote kurt vonnegut, "and so it goes"...
Labels: domestic terrorism, Kurt Vonnegut, psychological reciprocity, surveillance society, United Kingdom
Submit To Propeller
Tweet