Note to DOJ Special Prosecutor John Durham: the "Decider" is the one ultimately accountable
david swanson in antemedius...
On April 11, 2008, ABC News produced a video interview of Bush during which he was asked about meetings his top subordinates had held to approve specific instances of torture. Bush said: "And yes, I'm aware our national security team met on this issue. And I approved." The National Security Council's Principals Committee, which held the meetings, included Vice President Dick Cheney, National Security Adviser Condoleezza Rice, Defense Secretary Donald Rumsfeld, Secretary of State Colin Powell, CIA Director George Tenet, and Attorney General John Ashcroft. In the same interview, Bush defended the use of the drowning torture on prisoner Khalid Sheikh Mohammed, saying: "We had legal opinions that enabled us to do it. And no, I didn't have any problem at all trying to find out what Khalid Sheikh Mohammed knew."

On January 11, 2009, Fox News aired a video interview of Bush in which he admitted personally authorizing the torture of Khalid Sheikh Mohammed, saying: "One such person who gave us information was Khalid Sheikh Mohammed. … And I'm in the Oval Office and I am told that we have captured Khalid Sheikh Mohammed and the professionals believe he has information necessary to secure the country. So I ask what tools are available for us to find information from him and they gave me a list of tools, and I said are these tools deemed to be legal? And so we got legal opinions before any decision was made."

Does anyone else verify this? Well, how about John Yoo and Dick Cheney? On January 29, 2009, John Yoo, a former official in the Office of Legal Counsel who had drafted secret memos authorizing torture, published an article in the Wall Street Journal with the headline "Obama Made a Rash Decision on Gitmo," in which he wrote: "On the advice of his intelligence advisers, the president could have authorized coercive interrogation methods like those used by Israel and Great Britain in their antiterrorism campaigns. (He could even authorize waterboarding, which he did three times in the years after 9/11.)"

On May 10, 2009, former Vice President Cheney appeared on the CBS News television program "Face the Nation." Asked what Bush had known about torture methods, Cheney replied, "I certainly, yes, have every reason to believe he knew -- he knew a great deal about the program. He basically authorized it. I mean, this was a presidential-level decision. And the decision went to the president. He signed off on it."

[...]

OK, but did Bush put his approval down in writing anywhere? He certainly did. On Sept. 17, 2001, Bush produced an executive order authorizing the CIA to set up unacknowledged detention facilities around the world. For years after this date, prisoners in these facilities were not identified to the International Committee of the Red Cross or provided due process. On February 7, 2002, Bush produced a Memorandum for the Vice President, the Secretary of State, the Secretary of Defense, the Attorney General, Chief of Staff to the President, Director of Central Intelligence, Assistant to the President for National Security Affairs, and Chairman of the Joint Chiefs of Staff on the subject of "Humane Treatment of al Qaeda and Taliban Detainees." In this memorandum, Bush "determined" that "none of the provisions of Geneva apply to our conflict with al Qaeda in Afghanistan or elsewhere throughout the world," and "[C]ommon article 3 of Geneva does not apply to either al Qaeda or Taliban detainees," and "[T]he Taliban detainees are unlawful combatants and, therefore, do not qualify as prisoners of war under article 4 of Geneva," and "al Qaeda detainees also do not qualify as prisoners of war."
and, btw, here's a copy of that 7 february memo...
Page 1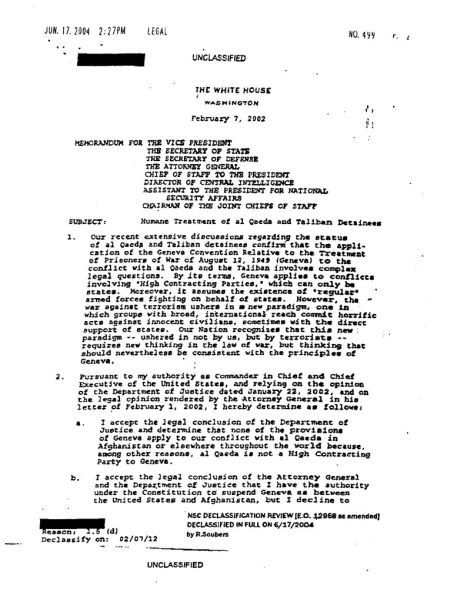 Page 2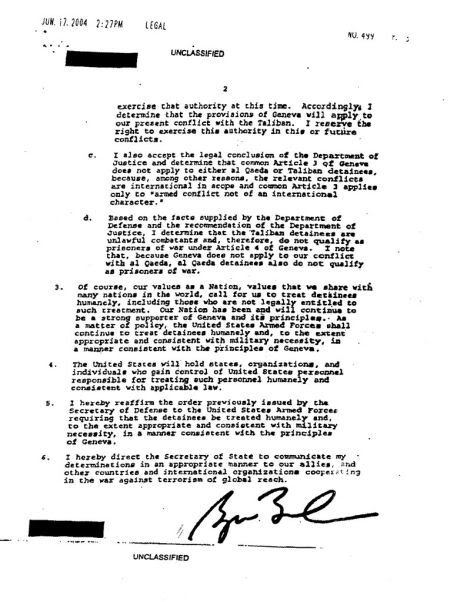 Labels: Antemedius, Department of Justice, Dick Cheney, Donald Rumsfeld, enhanced interrogation techniques, Geneva Convention, George Bush, John Durham, John Yoo, Khalid Sheik Mohammed, torture, war crimes
Submit To Propeller
Tweet