Anybody who thinks the economy is improving, raise your hand
< sound of loud gong > WRONG...! mortgage delinquencies rising

FIFTY PERCENT IN ONE MONTH

ain't an economy on the mend...

bloomberg via mish's global economic trend analysis...
Fannie Mae and Freddie Mac mortgage delinquencies among the most creditworthy homeowners rose 50 percent in a month as borrowers said drops in income or too much debt caused them to fall behind, according to data from federal regulators.

The number of so-called prime borrowers at least 60 days behind on mortgages owned or guaranteed by the companies rose to 743,686 in January, from 497,131 in December, and is almost double the total for October, the Federal Housing Finance Agency said in a report to Congress today.

Of all borrowers who ended up in default, 34 percent told Fannie and Freddie they were earning less money, about 20 percent cited excessive debt as a reason for missing mortgage payments, and 8.1 percent blamed unemployment, FHFA said.
just in case you didn't grab it on the first read-through, that's fifty percent among the

MOST CREDITWORTHY HOMEOWNERS

...!

let the chart tell the story...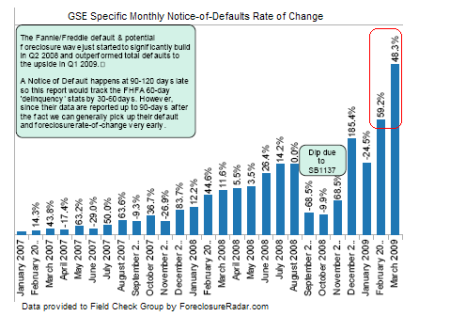 Labels: economic collapse, Fannie Mae, financial meltdown, Freddie Mac, housing market, mortgage delinquencies, personal debt, recession
Submit To Propeller
Tweet